Thursday August 23, 2018: 8:00 PM
$20.00 Admission: BYOB, Air Conditioned
>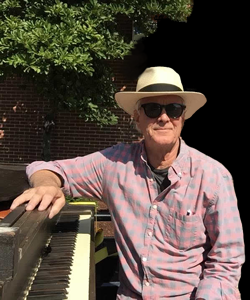 David Lockwood. Singer. Songwriter. Musician, with Tim Gilmore on drums and Scott Kiefner on bass

After high school and knocking around in New York City and DC in the 1970's, Lockwood enrolled at Berklee College of Music in Boston and graduated in 1980. "I wrote and recorded a bunch of songs while I was at Berklee, sent out demos to publishers, got some songs signed, got some rejections. One of my favorite lines was 'You write interesting songs. That's a liability in this business.'"

In the 1980's and early 90's, he wrote "interesting" songs for, and performed as, Little Davey and the Aberrations, and recorded three albums of original pieces for solo piano: Music From a Fall Afternoon, Diamonds in the Snow, and Blue Distance. "I recently retrieved the last two and converted to digital. I think they've held up pretty well, all things considered." He also wrote music and lyrics for two decidedly offbeat musicals: Awesome at the Academy and A Rash Act. A third musical, Free 2 Ride, followed in 2007.

In 1995, Lockwood had the opportunity to spend two weeks with his songwriting hero Randy Newman as he was beginning to write the score for Toy Story while recording vocals for his album, Faust. "He was so generous, and even more wickedly funny than I thought possible. He was also very direct. When I told him I'd been struggling to write lyrics, his response was 'You got anything to say?'"

Well, yes. Lockwood had and still has something to say. Through the 1990's, the aughts, and into the present, he has continued to write, record, and perform in and around New England while also serving as the celebrated music director, baseball coach, and Dean of Pranks for Holderness School in Plymouth, NH.