Saturday, August 04, 2018: 9:00 PM
$20.00 Admission BYOB: Air Conditioned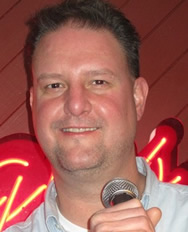 Mark Scalia: Since starting his stand up career in Boston, Mark has entertained tens of thousands of people at comedy clubs, colleges and universities, corporate and private events, and religious venues across the United States and Canada for over 20 years. He brings his audiences into the show by being funny, clever, personable and warm. He's a crowd favorite wherever he goes!

His first real test as a comic came when he competed in the Boston Comedy Riot, making the semi-final round in 1991 and 1992. He continued to work all around New England and expanded into new markets.

Mark has been invited to many comedy festivals all over the country including: The Boston International Comedy Festival, Seattle International Comedy Festival and the New Orleans Comedy Festival.

Joe Espie:Joining Mark is comedian Joe Espie who started on the Boston comedy scene in 2006. His self -deprecating style along with his heavy sarcasm has made him a local favorite. Audiences enjoy how he jabs at his childhood, dysfunctional family, and disastrous dates. People seem to relate to his blue collar humor and his ability to be the punch-line of a joke.