INFO: Advanced payment has been set up to go through PayPal. You do not need a PayPal account to purchase. It will accept all major credit cards. Tickets purchased in advance will be available at the door prior to the event

Saturday, November 03, 2018: 8:00 PM
$20.00 Admission BYOB: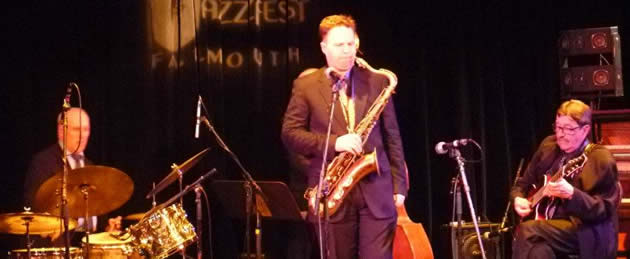 Collaborations are nothing new in the history of jazz.  Ellington and Strayhorn, Bill Evans and Jim Hall, Stanley Turrentine and Kenny Burrell are examples of artists who pooled their talent and ideas to create memorable and moving music. The Gerry Beaudoin Trio with Harry Allen is another memorable musical experience in this jazz tradition.  Meeting at a concert together in 2009 they found an instant musical camaraderie and respect for each other's music. That turned into a recording session months later and that recording "The Gerry Beaudoin Trio: The Return with Harry Allen "is the result of a that chance meeting in 2009. The Return features trio and quartet tracks and eight Beaudoin Compositions as well as two standards. "Harry was the perfect foil for me and my music, and I knew that first night we played together. "  Harry comments," Some recordings are fun to make from start to finish.  This was one of them. Great guys, great musicians and great tunes. We swung the whole afternoon away."  Selected songs from the Return were placed on the Grammy Awards ballot in three categories.  After the success of this recording they returned to the studio in 2017 for their forthcoming fall release, "..And Then There Were Four".  The current Gerry Beaudoin Trio features his longtime musical collaborator Bob Nieske on acoustic bass and his son Gerard Beaudoin on vibes.

Saturday September 29, 2018: 8:00 PM
$20.00 Admission: BYOB, Air Conditioned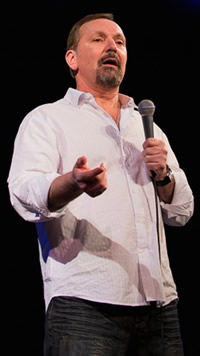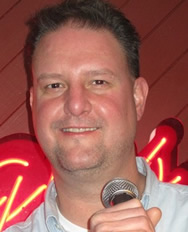 Paul Murphy spent almost eleven years as an Assistant District Attorney, supervising several of Massachusetts's busiest courthouses, before building a reputation as a noted criminal-defense trial attorney. The unexpected twist to this story is that, for nine of those years, under the pseudonym of Paul D'Angelo, Paul was simultaneously becoming one of the nation's top standup comedians

Combining an energetic, charismatic stage presence and spontaneous improvisational talent with an endless array of intelligent humor delivered in an animated style that grabs and holds the attention of crowds everywhere he performs, Paul's constantly evolving and diverse selection of original material "takes normal everyday experiences and makes them sound absolutely hilarious." Critics further write that "(Paul D'Angelo) is an energetic performer who gives a peak performance at every show." "His quick comedic mind," "unique observations" and "down to earth, stop-and-think humor" "keeps the crowd in hysterics."

Joining Paul is comedian Joe Espie who started on the Boston comedy scene in 2006. His self -deprecating style along with his heavy sarcasm has made him a local favorite. Audiences enjoy how he jabs at his childhood, dysfunctional family, and disastrous dates. People seem to relate to his blue collar humor and his ability to be the punch-line of a joke.

With a mastery of storytelling and the heart of a poet, Katie Dobbins captures elements of life and relationships in ways that lift spirits and challenge the soul. Her debut album She Is Free (released 2017) was described by The Deli Magazine as "a deeply personal record that is full of reflective poetry and messages of love . . . bringing to mind Jewel's Pieces of You." The comforting texture of her voice accompanied by her beautiful guitar or piano creates a warm inviting atmosphere that leaves her listeners longing for more.

"Dr. Jack" (Jack Polidoro) has a fifty-year career as a prolific songwriter, acoustic performer and recording artist with 9 albums (from vinyls to CDs). His original songs/style are analogous to Lightfoot, Croce, Taylor and his songs embrace love and love lost, socially aware issues and ballads that express life in general. A NH resident, his local following is quite extensive. Jack is also a novelist having written 8 books since 2000. His name is derived from his Ph.D. in Animal Science, a career in biological research which is unrelated to his passion for songwriting and literary works. Two new books, a novel and a book of poetry are in the works for 2019.
Erin Harpe & The Delta Swingers
Friday, October 12, 2018: 8:00 PM
$20.00 Admission BYOB: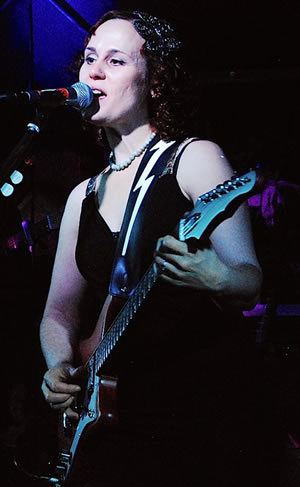 Charismatic singer and guitarist Erin Harpe, along with her band The Delta Swingers, have become favorites around New England, with a growing fan base around the world. Their unique brand of dance music is rooted in vintage 1930's Mississippi delta blues, then shaken and stirred with other genres like soul, funk, and reggae, evoking a wild southern juke joint where the whiskey and gin are flowing and everybody's dancing!

"This blues chanteuse breathes new, whiskey-soaked life into the likes of Memphis Minnie and Kansas Joe, with a sound that's uniquely Charles River Delta. "Boston's Weekly Dig

Saturday September 8, 2018: 8:00 PM
$20.00 Admission: BYOB, Air Conditioned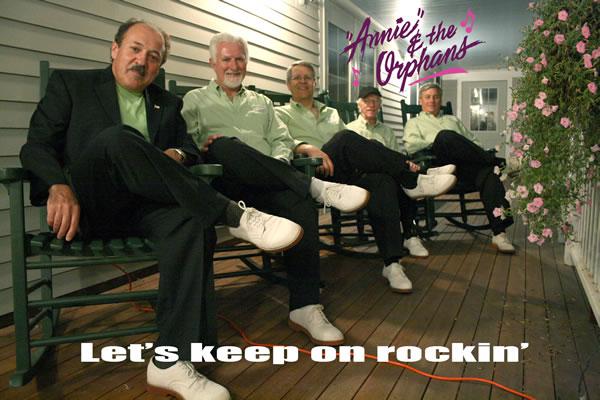 "Annie" and the Orphans, the popular six piece Lakes Region band, was formed in 1964 and has performed in many venues for over 50 years, including as a featured act on the cruise ship M/S Mount Washington.

Lead vocalist Anatole "Annie" Paquette and bass player, Bob McNab are two of the original performers.  Joining them to rock the night away are Roy D'Innocenzo, guitarist, Steve Giotas on drums, pianist, Peter "The Wildman" Previte and Scottie "The Horn" Groleau, saxophonist.

The band specializes in rock 'n roll and during their performance the musicians will intertwine dance music from the Fabulous Fifties and the British Invasion of the sixties.  This group always gives their audience a high energy performance and promises to get your spirits up and your toes tapping!

Rock 'n Roll with Anatole!!!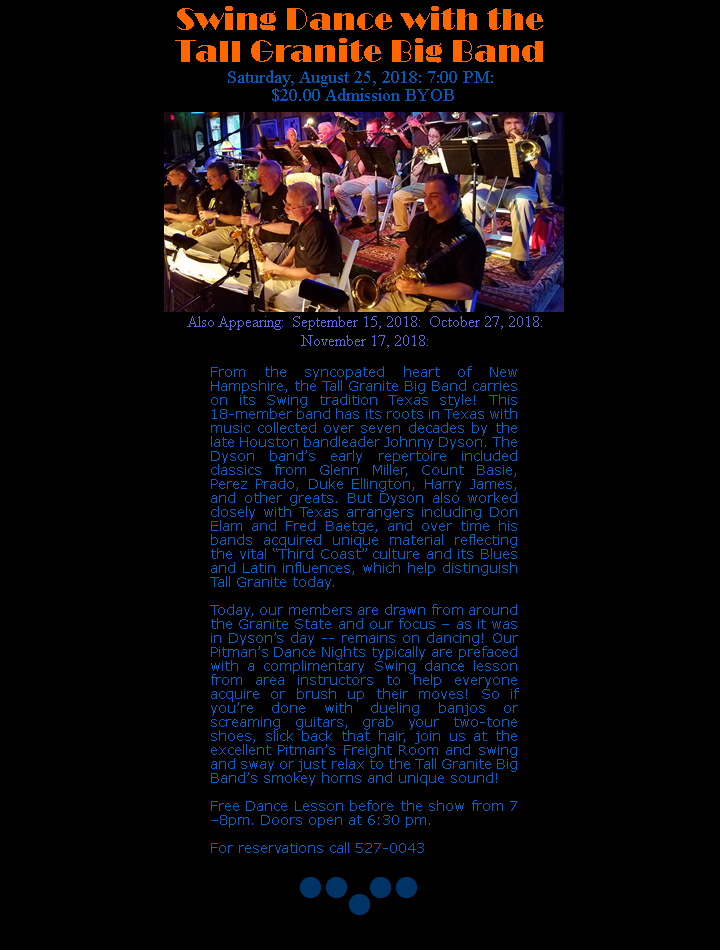 Friday September 14, 2018: 8:00 PM
$20.00 Admission: BYOB, Air Conditioned

Canyon Run is a Country/Folk/Americana group made up of James Rago, Lynda Krieger, and Bobby "Ally" Vachon.All four of the members are well rounded Songwriters. CR's shows consist of a blend of cover and original material, story telling, high energy, and humor.   

One of the forces that sets this group apart from others are their four part harmonies. They have an uncanny ability to keep an audience engaged.

Thursday August 23, 2018: 8:00 PM
$20.00 Admission: BYOB, Air Conditioned
>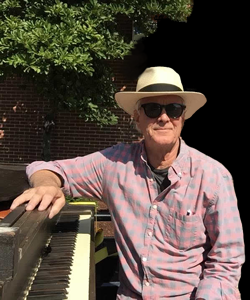 David Lockwood. Singer. Songwriter. Musician, with Tim Gilmore on drums and Scott Kiefner on bass

After high school and knocking around in New York City and DC in the 1970's, Lockwood enrolled at Berklee College of Music in Boston and graduated in 1980. "I wrote and recorded a bunch of songs while I was at Berklee, sent out demos to publishers, got some songs signed, got some rejections. One of my favorite lines was 'You write interesting songs. That's a liability in this business.'"

In the 1980's and early 90's, he wrote "interesting" songs for, and performed as, Little Davey and the Aberrations, and recorded three albums of original pieces for solo piano: Music From a Fall Afternoon, Diamonds in the Snow, and Blue Distance. "I recently retrieved the last two and converted to digital. I think they've held up pretty well, all things considered." He also wrote music and lyrics for two decidedly offbeat musicals: Awesome at the Academy and A Rash Act. A third musical, Free 2 Ride, followed in 2007.

In 1995, Lockwood had the opportunity to spend two weeks with his songwriting hero Randy Newman as he was beginning to write the score for Toy Story while recording vocals for his album, Faust. "He was so generous, and even more wickedly funny than I thought possible. He was also very direct. When I told him I'd been struggling to write lyrics, his response was 'You got anything to say?'"

Well, yes. Lockwood had and still has something to say. Through the 1990's, the aughts, and into the present, he has continued to write, record, and perform in and around New England while also serving as the celebrated music director, baseball coach, and Dean of Pranks for Holderness School in Plymouth, NH.


Friday September 7, 2018: 8:00 PM
$20.00 In Advance: $25.00 At Door:
BYOB, Air Conditioned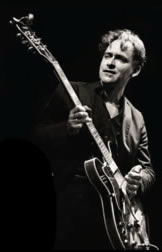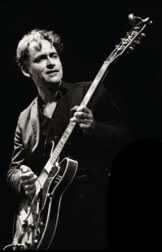 `
Rockin' Johnny Burgin is one of the hardest touring and well recognized traditional Chicago blues guitarists and singers today. Since his start in the 90s on Chicago's West Side with blues singer Taildragger, he has become a leading blues attraction throughout the United States and Europe. He has recorded with many blues greats including Billy Boy Arnold, Taildragger, Paul DeLay, Jimmy Burns, Andre Williams, Eddie Taylor Jr., Jimmy Lee Robinson and others.

Johnny Burgin grew up in Starkville MS and Greenville SC, where while still in high school, he got to see many touring blues bands such as Guitar Jr, Gatemouth Brown and Eddie Clearwater. After learning from the masters by touring with such artists as Pinetop Perkins and Howlin' Wolf drummer Sam Lay, he put his own band together. He has developed from a blues guitar slinger and local blues hero into a fully fledged singer, harmonica player, a dynamic and engaging bandleader, and a mature, seasoned guitarist. He puts on the kind of satisfying and exciting show that only years of touring can develop. Elmore magazine remarked on Johnny's "commanding vocals and stinging guitar", but Elvin Bishop may have said it best: "his guitar style is raw and rude and real—on the vocal side, a nice original style–he's damn good!"
INFO: Advanced payment has been set up to go through PayPal. You do not need a PayPal account to purchase. It will accept all major credit cards. Tickets purchased in advance will be available at the door prior to the event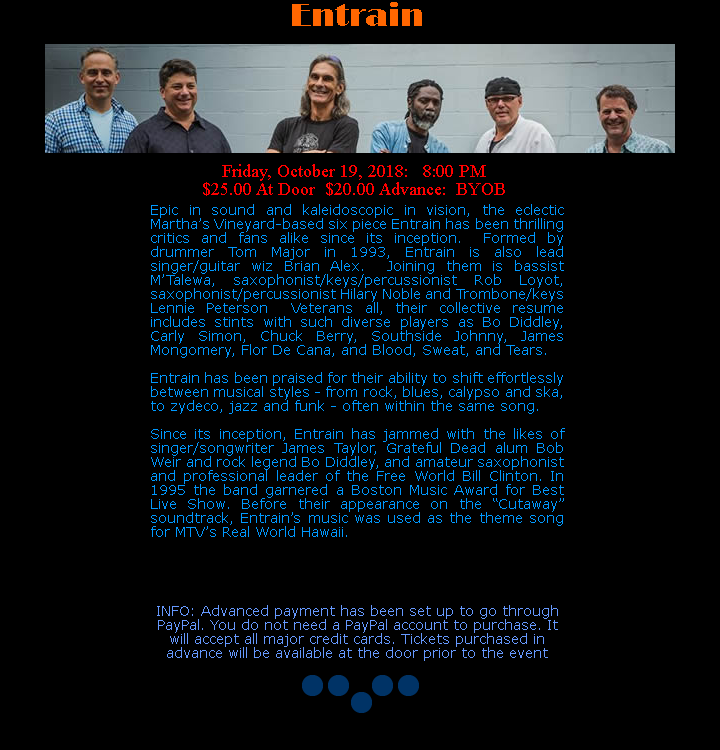 Friday, October 26, 2018: 8:00 PM
$20.00 Admission: BYOB:


"Neal & the Vipers" are a Rhode Island based band, playing American Roots Music encompassing blues, rock & roll, rockabilly, and surf, entertaining their fans for over 30 years! You can feel the chemistry between all of them as they play original hits songs from their multiple CD's as well as covering classic songs. The Vipers add their unique arrangement on these classic songs, always making them their own. You can see NEAL & THE VIPERS at music festivals and clubs dates.

Neal Vitullo as well as the Vipers have shared the stage with many music legends such as B.B. King, Roy Buchanan, John Lee Hooker, Bonnie Raitt, Albert Collins, Greg Allman, Jimmy Vaughan, Willie Dixon, Johnny Copeland and Robert Plant.

Friday August 24, 2018: 8:00 PM
$20.00 Admission: BYOB: Air Conditioned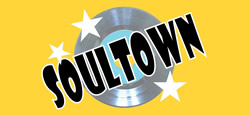 The SoulTown Band is a 9 pc show band, complete with backup singers and a horn section! They specialize in Motown music, with some Stax and Muscle Shoals thrown in for good measure.

Their repertoire includes hits from Aretha Franklin, James Brown, Gladys Knight, Marvin Gaye, The Temptations, Sam & Dave, The Supremes, Stevie Wonder, Wilson Pickett, just to name a few of the greats.

Friday September 28, 2018: 8:00 PM
$25.00 At Door: $20.00 In Advance: BYOB:

Eastside Detroit native Doug Deming, now hailing from Florida's Gulf Coast, has garnered widespread attention for his deft guitar work and memorable songwriting. With a nod to the likes of T-Bone Walker and Charlie Christian, as well as Luther Tucker and Robert Jr. Lockwood, Doug leaves his own mark whether swingin' on the big jazz box, or playing straight up blues on the solid body Fender guitar. Since playing the local Detroit scene beginning in the early 90's, Doug has spent much of the following years touring and recording with top blues artists, including Fabulous Thunderbirds frontman Kim Wilson, legendary Louisiana swamp bluesman Lazy Lester, Texas' Gary Primich, Chicago greats Johnny "Yard Dog" Jones and A.C. Reed, as well as Detroit's own Queen of the Blues, Alberta Adams. Leading his band The Jewel Tones, Doug continues to bring noteworthy traditional and original roots music to his audiences.

Doug's third recording, What's it Gonna Take, exhibits the outstanding guitar work and remarkable singing and songwriting that have become Doug's calling card. This critically acclaimed Vizztone debut spent several months on the Living Blues Charts Top Ten, and earned Doug the 2013 Blues Blast Music Awards Sean Costello Rising Star Award.
INFO: Advanced payment has been set up to go through PayPal. You do not need a PayPal account to purchase. It will accept all major credit cards. Tickets purchased in advance will be available at the door prior to the event

Saturday October 06, 2018: 8:00 PM
$25.00 at the Door: $20.00 in Advance:
BYOB: Air Conditioned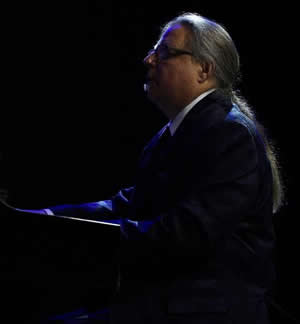 Pianist, Hammond organist, and composer, Anthony Geraci was born in New Haven, Conn. in 1954.  His interest in playing piano began at age four when he told his parents "I want a piano!"  His parents soon bought a Kimball Grand Piano that his mother paid 4 dollars a week to own. Lessons at the Neighborhood School of Music which was affiliated with Yale University soon followed. At the age of sixteen he befriended a fellow musician, Ed Cherry at high school and one day Ed played a Jimmy Rogers recording, Chicago Bound that literally changed his life. Ed went on to be Dizzy Gillespie's guitarist for many years.

He has performed with Muddy Waters, B.B. King, Otis Rush, Chuck Berry, Big Mama Thornton, Big Joe Turner, Jimmy Rodgers and many more. Anthony has recorded with Big Walter Horton, Ronnie Earl, Big Jack Johnson, Zora Young, & Sugaray Norcia.

Anthony Geraci and the Boston Blues All-Stars feature Brian Templeton-vocals, Troy Gonyea -guitar, Michael Mudcat Ward-bass, Chris Ravelli-drums
INFO: Advanced payment has been set up to go through PayPal. You do not need a PayPal account to purchase. It will accept all major credit cards. Tickets purchased in advance will be available at the door prior to the event

Friday August 31, 2018: 8:00 PM
$25.00 at the Door: $20.00 in Advance:
BYOB: Air Conditioned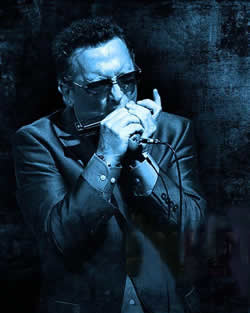 Rockin' Jake has been hailed by many as one of the premier harmonica players in the country. His original sound is a hybrid of second line, swamp funk, blues and zydeco with influences from Paul Butterfield, Big Walter Horton, James Cotton, The Meters, WAR, J. Geils Band, Clifton Chenier, and the Fabulous Thunderbirds. 

Based out of New Orleans since 1990, Rockin' Jake relocated since being flooded out by Hurricane Katrina, and now lives in Southern Florida. Jake has toured nationally with G. Love & Special Sauce, blues and pop legend Maria Muldaur, and bluesman T.J, Wheeler. 

Jake is a five-time winner of Off Beat Magazine's coveted Best of the Beat award for best harmonica player. He and his band pour out their souls in every performance with high energy and electricity which consistently brings the audience to their feet.

Five-time winner, Off Beat Magazine's  Best of the Beat award "Best Harmonica Player" 2011
INFO: Advanced payment has been set up to go through PayPal. You do not need a PayPal account to purchase. It will accept all major credit cards. Tickets purchased in advance will be available at the door prior to the event