Jim McCue, Mike Koutrobis, Andrea Henry: Comedy
Saturday, August 13, 2016: 9:00 PM
$15.00 Admission BYOB: Air Conditioned
Jimmy McCue
has earned the title "Boston's King of Crowd Work!" It's not only his height of six foot six that makes Jim stand head and shoulders above club comedians of the "stick-to-the-script" variety. Jim blends thought-provoking material and uncanny improv skills with a style that encourages audience participation. No two shows are ever the same!  He  has been featured on Comedy Central, Comcast Comedy Spotlight, NBC's "Last Comic Standing," and "Roughing It" on NESN in his native New England. Jim also founded and currently runs The Boston Comedy Festival. He works in top comedy clubs in Boston, Las Vegas, New York, Dublin, Montreal and Edinburgh. Since 1999 Jim has also entertained U.S. troops at more than 100 bases around the world. An account of his experiences performing for the troops has recently been published in Embedded Comedian which Jim describes as a "field manual for comedians in a war zone."With his unique act, Jim keeps the audience on its toes. Volleying between set material and working the crowd, Jim cracks jokes with amazing timing and whip-like precision. A unique blend that is sure to leave the audience roaring with laughter!
Over twenty years ago in Boston,  
Mike Koutrobis
 began what would become an outstanding comedy career. Mike's witty and sarcastic commentary has brought him to clubs, colleges and corporations throughout North America; appearing alongside some of the top headliners in the world. Prior to becoming a full-fledged comedian, Mike was an accomplished rock musician, ringing brothers trained clown, MMA ring announcer and one of New England's most popular wedding DJ's. Mike Koutrobis has also appeared in various motion pictures such as 'The Equalizer' with Denzel Washington, and 'Grown-Ups' with Adam Sandler.
Andrea Henry
is an up-and-coming comic in the Boston area. Her clean and self-deprecating wit makes her a hit with all audiences.  She can be seen at shows and festivals throughout New England. Andrea would like to thank her Greek-American family for all the comedic inspiration.
Bucky Lewis: Comedy
Friday, August 5, 2016: 8:00 PM
$20.00 Admission BYOB: Air Conditioned
For over 25 years the Bucky Lewis has been entertaining audiences with his dynamic one-man comedy and music show.​ Using many forms of comedic stylings and disciplines makes this show unique and a stand-out, delighting sold out crowds everywhere. The Bucky Lewis Show uses laughter as a weapon, successfully raising thousands of dollars for charities, and non-profits. There are many ways people laugh at a show. The Bucky Lewis Show has them all!
INFO: Advanced payment has been set up to go through PayPal. You do not need a PayPal account to purchase. It will accept all major credit cards. Tickets purchased in advance will be available at the door prior to the event
Wednesday, August 3, 2016: 8:00 PM
$15.00 Admission BYOB: Air Conditioned
>
Burlesque Night Live: One Night Only! Rick Morten has put together another great burlesque show.  It is a laugh riot in the best traditions of vaudeville and burlesque. You'll see comedy sketches, musical numbers and dancing girls along with special guests Zach Foote, Artsfest and Amy Weston with your hostess, Vivian Wilde. Join us for an evening you'll never forget!
Tall Granite Big Band featuring Delfeayo Marsalis
Friday, September 30, 2016: 7:00 PM
$20.00 Admission BYOB: Air Conditioned
If it can swing, Tall Granite will play it! From the syncopated heart of New Hampshire, the Tall Granite Big Band sound is a spirited homage to Chicago-style "Hot" jazz from the Roaring 1920s, into the Swing jazz of the '30s, '40s, '50s and even '70s! Our influences range from King Oliver to Oliver Nelson, with stops at Louis Armstrong, George Gershwin, Fats Waller, Duke Ellington, Hoagy Carmichael, Miles Davis, Cole Porter, Louis Jordan, Van Morrison, and even Hank Williams! which is a 17-piece Swing band plus a vocalist.

Joining the band is special guest Delfeayo Marsalis! Delfeayo is one of the top trombonists, composers and producers in jazz today. Known for his "technical excellence, inventive mind and frequent touches of humor…" (Leonard Feather, Los Angeles Times), he is "…one of the best, most imaginative and musical of the trombonists of his generation." (Philip Elwood, San Francisco Examiner.) In January 2011, Delfeayo and the Marsalis family (father Ellis and brothers Branford, Wynton and Jason) earned the nation's highest jazz honor – a National Endowment for the Arts Jazz Masters Award.
Arthur James Blues Band
Friday, July 29, 2016: 8:00 PM
$15.00 Admission BYOB: Air Conditioned
Arthur James became a fixture of the New England blues scene in the 80's. From 1990 to the present has seen Arthur become the John Mayall of NH. He has shared the stage at festivals and clubs with a who's who of the New England blues world. Some past band mates have gone on to play with Roomful of Blues. Recently James is the winner of two Granite State Blues Challenges. Playing a nouveau-retro style of acoustic blues, that incorporates soulful vocals, passionate guitar work and a smidgen of irreverence. James has released numerous CDs & albums (no 8-tracks) through the years. His music can be heard throughout the country on various Blues programs.

Arthur James guitar and vocals, Matt Sambito Bass and Johann Haas on drums.

Swing Dance with the Tall Granite Big Band
Saturday August 20, 2016 8:00 PM
$15.00 Admission BYOB: Air Conditioned
From the syncopated heart of New Hampshire, the Tall Granite Big Band carries on its Swing tradition Texas style! Organized in Concord last year, the 18-member band has its roots in Texas with music collected over seven decades by the late Houston bandleader Johnny Dyson. The Dyson band's early repertoire included classics from Glenn Miller, Count Basie, Perez Prado, Duke Ellington, Harry James, and other greats. But Dyson also worked closely with Texas arrang­ers including Don Elam and Fred Baetge, and over time his bands acquired unique material reflecting the vital "Third Coast" culture and its Blues and Latin influences, which help distinguish Tall Granite today. Today, our members are drawn from around the Granite State and our focus – as it was in Dyson's day -- remains on dancing! Our Pitman's Dance Nights typically are prefaced with a complimentary Swing dance lesson from area instructors to help everyone acquire or brush up their moves! So if you're done with dueling banjos or screaming guitars, grab your two-tone shoes, slick back that hair, join us at the excellent Pitman's Freight Room and swing and sway or just relax to the Tall Granite Big Band's smokey horns and unique sound!

Free Dance Lesson before the show from 7 – 8 PM. Doors open at 6:00 PM
The Jeremy Wallace Blues Trio
Saturday, August 6, 2016: 8:00 PM
$15.00 Admission BYOB: Air Conditioned
Opening band starts at 7:30 PM
Jeremy Wallace is a blues rock singer/songwriter from New Jersey. He has performed at various venues on the East Coast, and has opened for artists such as Dave Van Ronk,John Hammond, and Freedy Johnston. Wallace took guitar lessons from Van Ronk, who sang a duet with Wallace on the song "Samson and Delilah" on Wallace's second album, She Used to Call Me Honey. Jeremy has a gritty, graveled voice that sounds as though he's been gargling with gasoline. A bushel-full of song upon song about love-gone-oh-so-wrong, the romance of hanging out in deadbeat bars, the salvation of whiskey and making lots of bad choices. A minimalistic blues-based sound soaked in days long gone by – all drums with brushes (Tom Costagliola) and stand-up bass (Matt Gruenberg).   The best art is often dangerous, and Wallace's art is dangerous in the same way Lou Reed is dangerous. He writes so well, he almost makes you believe his self-destructive lifestyle is a romantic deal." -DON WILCOX
Swing Rocket: Opening Band
The Lemieux family band - SWING ROCKET performs Swing Jazz from the 30's and 40's, originals, and more. The boys in the band were all homeschooled which allowed us to travel and book shows more easily. They were featured on WMUR TV's NH Chronicle and WCVB TV's Boston Chronicle. Three of the band members are under 22 years old:

Adam on upright bass; Jacob on drums; Michael on clarinet; Mary – Vocals; and Tom on guitar and vocals.
Rackey Thomas Blues Band
Friday, August 19, 2016: 8:00 PM
$15.00 Admission BYOB: Air Conditioned
Come join us for our Halloween Party featuring The Racky Thomas Band which has been a torchbearer for the blues since its formation in 1995, when Racky Thomas collaborated with bassist Todd Carson, guitarist Nick Adams, and drummer Ted Larkin to make a demo cd, and do some gigs around the Boston area. Racky Thomas has a vast repertoire of tunes – blues from world-class bluesmen, plantation gospel (the original blues), rocking electric blues, classic and obscure blues, and Racky Thomas blues! including "Matchbox Blues", "Biscuit-Bakin' Woman", "Mona", "Sugar-coated Love", "Big Road Blues", "Hoochie-Coochie Man", and "Mojo Workin'" (to name a few)

Gutsy vocals, down and dirty harmonica, smoking guitar, a killer rhythm section delivering pure unadulterated blues, and you've got the Racky Thomas Band. Twice nominated for Boston Music Awards, and winners of the 1997 Battle of the Blues bands you've only got to experience them once to become a believer.

Light hors d'oeuvres included.
The Bel Airs
Friday, August 12, 2016: 8:00 PM
$15.00 Admission BYOB: Air Conditioned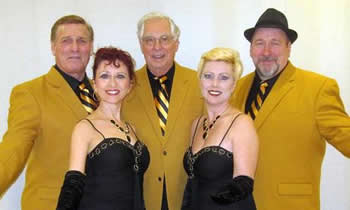 The Bel Airs perform Doo Wop and 50-60's Vintage Rock 'N' Roll, with elegant five part harmonies and stereophonic instrumental arrangements. Their music takes you on a romantic journey back to classic cars, sweet sixteen girls wearing saddle shoes, bobby socks and poodle skirts.

Their five members are Gabe Cohen, Dick Kruppa, Randy Filliger, Denice Filliger and Denise Therrien. Special Guest & Founding Member Trisha Sweeney