We have risen from the ashes and have an exciting lineup of Blues, Jazz, and Comedy back on schedule
Comedy Night with Frank Santorelli: Karen Fitzgerald
Saturday January 18, 2013: 8:00 PM
$15.00 Admission: BYOB: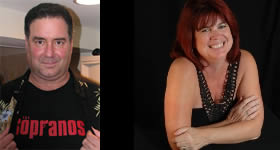 Pitman's Freight Room is pleased to announce that our January Comedy Night will feature Frank Santorelli and Karen Fitzgerald. Frank is an Italian-American who is best known for playing the recurring role of "Georgie the Bartender" in The Sopranos. Frank is also well known for his star role in The Godfathers of Comedy. Frank has starred in numerous movies, including: No Reservations, Meet the Parents, and Crooked Lines. Frank's passion has always been comedy. He has headlined at some of the world's most famous comedy clubs in NY, LA and across the country.

Karen Fitzgerald performs out of Side Splitters Comedy Club in Tampa, FL. as well as clubs and events up the East Coast. Taking every day experiences and relating them in a humorous and sometimes sarcastic way has helped Karen move along in her comedy career. Never afraid to laugh at herself, she is never at a loss for material! "I love comedy...it has been a passion in my life for as long as I can remember. It has made the bad times bearable and the goods time all that much better!
Comedy Night with Paul Nardizzi and Bob Seibel
Saturday December 14, 2013: 8:00 PM
$15.00 Admission: BYOB: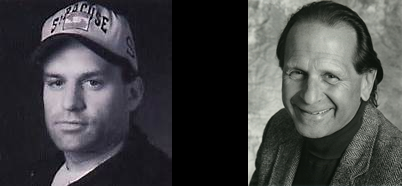 Pitman's Freight Room is pleased to announce that our December Comedy Night will feature Paul Nardizzi who began his comedy career in 1990, quickly becoming a Boston area favorite and a national headliner within four years. He has made numerous appearances on Conan O'Brien, Comedy Central, won the Boston Comedy Festival Competition and is one of the most requested acts on XM Satellite Radio. He is now one of the top stand up comedians in Boston and the New England Area, and is known nationally for his rapid-fire comedy style.

Along with Nardizzi will be Bob Seibel, another Boston based comic that has worked up and down the east coast at major clubs from Caribou, Maine to Miami, Fla. He has worked with such well known figures as Lewis Black, Victoria Jackson of Saturday Night Live, Pam Stone, Stephen Wright, Jonathan Katz and Lenny Clarke. He has also hosted the Boston leg of "Next Big Comedy Star Search."
Comedy Night with Frank Santorelli
and Karen Firtzgerald
Saturday January 18, 2013
details to follow soon
Comedy Night with Tony V and Derek Richards
pn
Saturday February 15, 2013
details to follow soon
Heather Pierson
Charlie Brown Christmas Show
hp
Thursday December 12, 2013: 8:00 PM
$10.00 Admission: BYOB:
The Heather Pierson Quartet (Heather Pierson, piano/vocals; Joe Aliperti, alto & tenor sax; Shawn Nadeau, bass; Matty Bowman, drums) will present the musical score for A Charlie Brown Christmas. Originally telecast in December 1965, the program was an instant hit with audiences who connected with Peanuts creator Charles M. Schultz's cast of characters – especially with its rounded-headed hero Charlie Brown, his woefully scrawny Christmas tree, and his typewriter-wielding dog Snoopy.

This beloved holiday classic resonates with both children and adults of every generation. The musical score for A Charlie Brown Christmas, composed by the late Vince Guaraldi, is just as poignant and touching as the story and includes the hugely popular hit "Linus and Lucy". Don't miss this very special evening which will also include other jazzy holiday favorites!
Lisa Marie & All Shook Up
LM
Friday December 13, 2013: 8:00 PM
$12.00 Admission: BYOB:
Opening Act: The Kid Jazz Band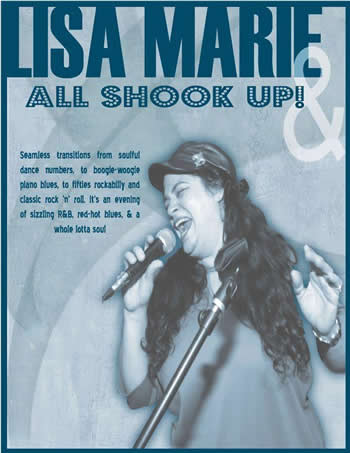 Not only a blues shouter in the tradition of Big Joe Turner and Wynonie Harris, this Boston native carries on the sweet gospel soul of Sam Cooke, the yearning of Hank Williams Sr., and cartoonish fun of Louis Jordan. From jump-swing to swamp boogie, Piedmont blues to funky New Orleans grooves, her deep husky vocals express an unmistakable joy. Lisa Marie tells her audience that "joy and sorrow are two sides of the same coin"... This woman is a storyteller, with a gift that allows you to fall deeply in love with a song - sometimes one you may have heard before.

Lisa Marie is joined by Dana Bonardi on Drums and Johnny Juxo on keys!
JCB Jazz Trio
JBC
Thursday December 19, 2013: 8:00 PM
$12.00 Admission: BYOB: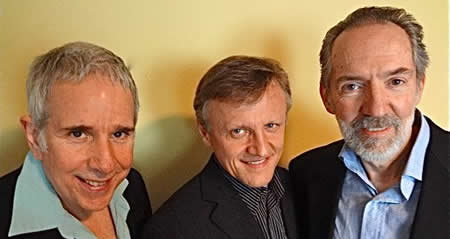 The JCB Trio is a straight-ahead jazz trio consisting of guitar, bass and drums. The band performs the works of great American composers such as George and Ira Gershwin, Irving Berlin, Cole Porter, Johnny Mercer, and Duke Ellington. The trio also performs a wide range of jazz standards composed by artists like Charlie Parker, Oscar Pettiford, Horace Silver, Clifford Brown, Dexter Gordon and many others. The members of the trio are Brad Hallen on acoustic bass, Curt Shumate on electric guitar and Jerzy (Jurek) Glod on drums.

Brad Hallen has played bass since 1975. For the past 5 years he has been a member of blues great Duke Robillard's band. Brad also played with the legendary Roomful of Blues for four years and recorded two albums with them. He has also toured and recorded with a wide range of Blues and R&B artists including: Hubert Sumlin, James Cotton, Susan Tedeschi, Mike Welch, Curtis Salgado, James Montgomery, Johnny Winter and rock artists including Ben Orr of The Cars.

Curt Shumate has been a musician and educator in the Boston area for over 30 years. Shortly after graduation from Berklee College of Music, he became a full-time guitar faculty member. As a guitarist he has performed with such notables as Peter Bernstein, Marshall Wood, John Lockwood, Dave Clark, John McKenna and Phil Grenadier. In addition to his teaching, Curt has also been an active member of the Boston music-theater scene including runs with several national touring companies.

Jurek Glod, a native of Poland, has played professionally since age 15. After gaining wide recognition in his home country, he joined the band of contemporary Polish jazz composer, Zbigniew Namyslowski, touring the world.. Since graduating Summa Cum Laude from Berklee, he has become a first call jazz drummer playing with many of the finest musicians in the Boston area, including pianists Ray Santisi and Chris Taylor.