The Biscuit Miller Blues Band
Saturday, March 5, 2016: 8:00 PM
$20.00 Admission BYOB: :
Born and raised on the south side of Chicago by his Grandmother; he was given his childhood nickname, Biscuit, after always being in the kitchen and underfoot while she was trying to cook. Growing up at Grandma's house also gave Biscuit his love and appreciation for music, as gospel and soul were played in the home on a regular basis.

While visiting his friend Datrick's house one afternoon, Biscuit spotted a four string electric bass sitting in a corner collecting dust and decided to check it out. The bass belonged to Datrick's older brother, Darnell, who taught him a couple of songs. Biscuit took to it like a fish in water, "It was easy to play and I fell in love with it immediately". So at the tender age of eleven years old, Biscuit Miller was born into the "Blues". They moved to Minneapolis in 1982 where Sonny Rogers taught him a lot about playing basic blues. During his time with Rogers, they recorded "They Call Me the Cat Daddy", which won Rogers a Handy Award for Best New Artist.

Biscuit received a phone call to come back to Chicago by legendary Lonnie Brooks who needed a bass player for one night. That one night lasted for over ten years as Biscuit became the permanent bass player for the Lonnie Brooks Band. In 2000 he formed Biscuit and the Mix to fill up some of the down-time.

In 2012 Biscuit's fun and funky style of bass playing earned him the Blues Music Award for Bassist of the Year!


Roberto Morbioli Blues Band
Friday, February 19, 2016: 8:00 PM
$15.00 Admission BYOB: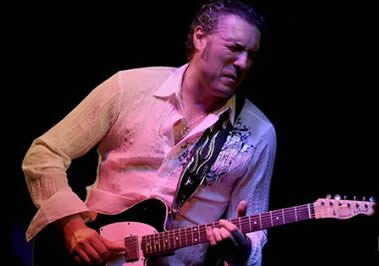 Roberto was born in Verona and started playing the guitar at an early age. At the age of 15 he discovered his greatest passion to be the blues. After several years of activity in the Italian music scene, he was asked to play in the 'Tao Ravao Blues Band' in 1987, with whom he recorded his first album: "From Madagascar To Chicago". In 1991 he finally set up his own band MORBLUS which has brought him much recognition and many awards, playing in all the biggest national and international blues festivals and events. Roberto's personality and unique playing style are evident in all his interpretations while at the same time recalling the styles of blues greats such as Freddy King, Albert King, B.B. King, Albert Collins, T. Bone Walker, Steve Ray Vaughn and Eric Clapton.

The blues flow so naturally for Roberto Morbioli, and his guitar playing and vocals are so polished, he sounds as if he grew up closer to Chicago than Verona, Italy." Boston Herald.
Saturday, February 27, 2016: 8:00 PM
$20.00 Admission BYOB:
Sugar Ray and the Bluetones have been playing their unique style of blues the world over for almost forty years.  Not limited to one style, but able to play Chicago Blues in the style of Muddy Waters. Little Walter and Billy Boy Arnold; Kansas City Swing in the style of "Big" Joe Turner; Texas Blues like "T" Bone Walker and Freddie King; and the swampy Louisiana sounds of "Lazy" Lester-all played with the distinctive originality of band leader Sugar Ray Norcia, vocals and harmonica, guitarist "Monster" Mike Welch, Anthony Geraci at the piano and Hammond Organ, Michael "Mudcat" Ward playing acoustic and electric bass, and drummer Neil Gouvin

All of the members of Sugar Ray and the Bluetones have been featured on other Artists recordings which include Hubert Sumlin, John Hammond, Johnny Winter, Otis Grand, Pinetop Perkins, The Mannish Boys, Sugaray Rayford, Debbie Davies, Duke Robillard, Ronnie Earl and many more. Doors open at 7pm and we are a BYO Venue
Tyler Road Blue Grass Band: Rockspring Opening
Friday, March 4, 2016: 8:00 PM
$15.00 Admission BYOB: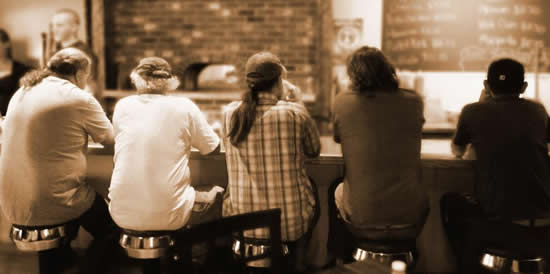 Tyler Road has been performing publicly and at private functions since 2003. Tyler Road has acquired the talent of various musicians from central NH to create a blend of music that you will not find anywhere else. With the combination of banjo, acoustic guitar, fiddle, mandolin, bass, accordion, box drum and bluesy vocals, Tyler Road creates the best foot stomping jams in the Northeast. Tyler Road has performed at arts and music festivals across New England.

Scott: Guitar, Dobro, Vocals,  Steve: Banjo, Vocals,  Theresa: Viola Dave: Mandolin, Vocals Andy: Percussion, Vocals Woody: Mandolin, Banjo Beth: Stand Up Bass Drew: Djembe

Special guests "RockSpring" to open the show! Formerly known as The Verbs, Rockspring is a high energy five-piece string band that has quickly gained a strong following in the New England region. Combining original songwriting with eclectic cover choices, Rockspring puts on an incredibly entertaining live show that makes people dance out of their shoes into the wee hours of the night.


Kid Pinky and His Restless Knights
Friday, February 12, 2016: 8:00 PM
$15.00 Admission BYOB:
Kid Pinky and his Restless Knights is a retro style 4 piece blues band from the Concord area that is both authentic and unique but not loud. The band is a throwback to a more simple but nasty kind of Blues, and with its dedicated stylists, engaging personalities and comfortable volume levels, the band is always intimate and FUN! Kid Pinky plays blues that will KNOCK YOU OUT!!

Tom Wright- Guitar/Vocals  John Hoik– DRUMS Steve Prisby – vocals, piano, harmonica Jock Irvine– doUBLE Bass/VocalS
Bucky Lewis: Live Comedy
Friday, March 11, 2016: 8:00 PM
$20.00 Admission BYOB:
For over 25 years the Bucky Lewis has been entertaining audiences with his dynamic one-man comedy and music show.​ Using many forms of comedic stylings and disciplines makes this show unique and a stand-out, delighting sold out crowds everywhere.

The Bucky Lewis Show uses laughter as a weapon, successfully raising thousands of dollars for charities, and non-profits. There are many ways people laugh at a show. The Bucky Lewis Show has them all!
Michael Vincent Band: Comming Home Party
Sunday, February 21, 2015: 7:00 PM
$15.00 Admission BYOB:

The Michael Vincent Band is a tight knit group of friends that have been together their entire professional musical careers. Michael, Dan Hewett and Danny Mack have recently been performing in the Mississippi Delta and have developed into a young power trio with talent far beyond their 21 years. With blistering licks, soothing harmonies, and an incredibly tight rhythm section, they will escort your mind to another place and time.

They have made grand steps in their ten year span together.  In 2008, they opened the show for some of their idols Eric Burdon of the Animals and WAR, and the late Jack Bruce of the band Cream at Meadowbrook.  Since then they have shared the stage with Blues Legends such as the late Johnny Winter (Plymouth, NH 2014), Eddie Kirkland (Pensacola Beach, FL 2012), Elvin Bishop (Thornton, NH 2010), Tab Benoit (Gulfport, MS 2013), and Dave Mason (Plymouth, NH 2012), one of the original members of Traffic.  They have also played some of the most prestigious clubs in the country, including Buddy Guy's Legends Club, Chicago IL; The Bradfordville Blues Club, Bradfordville FL; Hog's Breath Saloon, Key West FL; Ground Zero Blues Club, Clarksdale MS; Bourbon Street Boogie & Blues Bar, Nashville TN; The Florabama, Orange Beach FL; Antone's, Austin TX; and many many others all over the Eastern US.
Frank Santorelli and Dan Crohn: Comedy Night
Saturday, February 20, 2016: 8:00 PM
$15.00 Admission BYOB:


Pitman's Freight Room is pleased to announce that our February Comedy Night will feature Frank Santorelli and Dan Crohn.  Frank is an Italian-American who is best known for playing the recurring role of "Georgie the Bartender" in The Sopranos.  Frank is also well known for his star role in The Godfathers of Comedy.  Frank has starred in numerous movies, including:  No Reservations, Meet the Parents, and Crooked Lines.  Frank's passion has always been comedy.  He has headlined at some of the world's most famous comedy clubs in NY, LA and across the country.

Dan Crohn has been performing standup comedy in and around Boston for years. A semi-finalist in the Boston Comedy Festival and the Laughing Skull Festival, his stories of family and friends have entertained audiences from all over New England. Dan's jokes can be heard on XM Radio and he was recently a guest on a live episode of the popular podcast WTF with Marc Maron. His former day job of teaching 4th graders has provided him with endless amounts of material. He has wanted to be a comedian since the age of eight when he stumbled upon his Father's Henny Youngman records. Dan Crohn is quickly becoming one of the funniest comics in Boston, and with good reason: he's hilarious.
Duo Bruce Marshall and Chuck Farrell with Blues Legend Jon Butcher
Friday, February 26, 2016: 8:00 PM
$15.00 Admission BYOB:

The sound of duo Bruce Marshall and Chuck Farrell defies categorization, slipping seamlessly around touches of Blues, R&B, Rock and Southern Boogie.   Bruce is a member of The Toy Caldwell Band (Marshall Tucker) and has performed with Dire Straits, BB King, James Montgomery, Kate Taylor, Susan Tedeschi and more. Grammy-nominated Jon Butcher is one of a select handful of influential recording artists comprising the legendary Boston music scene. MTV vids and hit songs, "Life Takes A Life" ,"Wishes", "Holy War", "Goodbye Saving Grace", and "waiting For A Miracle" comprise the underpinnings of a music career that continues today.

Jon Butchers' signature sound and particularly his guitar work represent a skillful mix of Americana- rock, r&b, Jazz and folk, all of it focused through a prism built from the Blues.

Bruce Narshall Lead Vocals, Electric & Acoustic Guitars, Jon Butcher Guitar and Chuck Farrell, Guitar