INFO: Advanced payment has been set up to go through PayPal. You do not need a PayPal account to purchase. It will accept all major credit cards. Tickets purchased in advance will be available at the door prior to the event



Friday July 24, 2018: 8:00 PM
$20.00 Admission: BYOB: Air Conditioned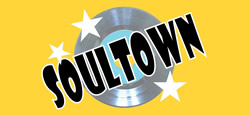 The SoulTown Band is a 9 pc show band, complete with backup singers and a horn section! They specialize in Motown music, with some Stax and Muscle Shoals thrown in for good measure.

Their repertoire includes hits from Aretha Franklin, James Brown, Gladys Knight, Marvin Gaye, The Temptations, Sam & Dave, The Supremes, Stevie Wonder, Wilson Pickett, just to name a few of the greats.
Thursday July 30 2020: 8:00 PM
$20.00 Admission: BYOB: Air Conditioned
Pianist, singer & songwriter Craig Jaster is no stranger to the Freight Room, having gained attention performing with jazz artists including Delfeayo Marsalis, Philip Hamilton and New Hampshire's Tall Granite Big Band, though he is best known for his work with Americana band The Buskers, with whom he has recorded four albums and performed here several times, as well as throughout New England.

He leads his new trio (Brendan Dowd on bass and longtime collaborator Tim Gilmore on drums) with an unpretentious, contagious sense of fun. Thegroup ranges freely from rollicking blues and funky, New Orleans-influenced jazz to Jaster's inventive, emotionally honest, often funny original material, as well as offering unique interpretations of songs from the American songbook and artists like The Beatles and Stevie Wonder.
Friday July 17 2020: 9:00 PM
$20.00 Admission: BYOB: Air Conditioned
Pitman's Freight Room is pleased to announce that our May Comedy Night will feature Robbie Printz and Jason Merrill.

A fixture on the Boston comedy circuit, Robbie got his start in 1988 and has been performing ever since. He made the rounds on the Cable Comedy shows, including MTV, A&E and Comedy Central. He won the Boston Comedy Festival and was named the Best Comedian in Boston, by the Improper Bostonian.Laughter is the best medicine, so go see Robbie Printz and laugh about life, or laugh at him about his life. Either way you'll feel better. 

Jason Merrill is a comedy newcomer who has impressed audiences with his street-wise style and good-natured exuberance and is a crowd favorite. He draws upon his real-life experiences to find the funny in everyday life.
Friday July 31, 2020: 8:00 PM
$25.00 Admission: BYOB: Air Conditioned
International Recording Artist's The Alexis P Suter Band is a powerful and unique 5 piece ensemble fronted by a vocalist who transcends styles and genres. When the great Bluesman B.B. King first heard Alexis P. Suter sing, he was visibly impressed and said so after her opening set for him at BB Kings NYC. Shaking his head in wonder in his characteristic way, he remarked: "It's a rare thing to share the stage with great talent like that young lady."

Alexis was nominated for Best Soul Blues Female Artist at the 33rd Annual Blues Music Awards held in Memphis, Tennessee! The Alexis P. Suter Band have contributed a song to the Songs After Sandy (songsaftersandy.com) project and Restore Red Hook. This is a 3 CD compilation of some of the biggest artists in music today. APSB are proud and honored to be on the Second Volume along with Sir Paul McCartney and Dave Stewart (Eurythmics) with their song "In The City".

Along with Suter's extraordinary bass/baritone voice and amazing and powerful stage presence, her real secret weapon is The Alexis P. Suter Band! At every show audiences show their whistling, clapping and cheering appreciation for the APSB with drummer Ray Grappone's dynamic beats, guitarist Jimmy Bennett's searing leads, Peter Bennett on down home solid bass and the very talented backing vocalist Vicki Bell. The firepower of this exciting band has captured the attention of some of the best players around, and they are considered by their peers as one of the best LIVE Bands on the scene today!
Saturday July 18, 2020: 8:00 PM
$20.00 Admission: BYOB: Air Conditioned
The Racky Thomas Band has been a torchbearer for the blues since its formation in 1995, when Racky Thomas collaborated with bassist Todd Carson, guitarist Nick Adams, and drummer Ted Larkin to make a demo cd, and do some gigs around the Boston area. Racky Thomas has a vast repertoire of tunes – blues from world-class bluesmen, plantation gospel (the original blues), rocking electric blues, classic and obscure blues, and Racky Thomas blues! including "Matchbox Blues", "Biscuit-Bakin' Woman", "Mona", "Sugar-coated Love", "Big Road Blues", "Hoochie-Coochie Man", and "Mojo Workin'" (to name a few).

Gutsy vocals, down and dirty harmonica, smoking guitar, a killer rhythm section delivering pure unadulterated blues, and you've got the Racky Thomas Band. Twice nominated for Boston Music Awards, and winners of the 1997 Battle of the Blues bands you've only got to experience them once to become a believer.
28