James Montgomery with Barry Goudreau
Friday, December 18, 2015: 8:00 PM
$20.00 Admission: BYOB
When blues legend James Montgomery plays the harmonica, he "brings it on home". Whether it's recording with Kid Rock, sitting in with Gregg Allman, or fronting his hot band of thirty years, Montgomery plays with authority. While growing up in Detroit he learned first-hand from the masters - James Cotton, John Lee Hooker, and Jr. Wells - at the legendary "Chessmate." Over the years, he's carried on in the tradition and continues to be a vital presence in Blues as one of the most dynamic performers on the scene.

In 1970, while attending Boston University, Montgomery formed the James Montgomery Band. His inimitable (oh yeah, he majored in English) harmonica playing combined with his incredibly energetic live shows led to the band's quick ascension on the New England music scene. Within two years, the James Montgomery band was among the hottest acts in Boston along with J. Geils and Aerosmith, and they were quickly signed to a multi-album deal with Capricorn Records.

Joining James is Guitar great Barry Goudreau. As a former member of the multi-platinum selling band BOSTON, Barry played on their first two albums, Boston, and Don't Look Back. When released, Boston, was the fastest selling debut album of all time. Both albums landed on the top of the, Billboard POP Charts, with Boston, reaching #3 and Don't Look Back, reaching #1. Barry's musical career continued after BOSTON, going on to form Orion the Hunter, RTZ, and releasing two records with Brad Delp.
Dance Night Annie and the Orphans
Wednesday, November 25, 2015: 7:00 PM - 10:00 PM
$15.00 Admission: BYOB
Annie" and the Orphans, the popular six piece Lakes Region band, was formed in 1964 and has performed in many venues for over 50 years, including as a featured act on the cruise ship M/S Mount Washington.

Lead vocalist Anatole "Annie" Paquette and bass player, Bob McNab are two of the original performers.  Joining them to rock the night away are Roy D'Innocenzo, guitarist, Steve Giotas on drums, pianist, Peter "The Wildman" Previte and Scottie "The Horn" Groleau, saxophonist.

The band specializes in rock 'n roll and during their performance the musicians will intertwine dance music from the Fabulous Fifties and the British Invasion of the sixties.  This group always gives their audience a high energy performance and promises to get your spirits up and your toes tapping!

Rock 'n Roll with Anatole!!!
Bucky Lewis: Comedy
Saturday, November 28, 2015: 8:00 PM
$15.00 Admission: BYOB
For over 25 years Bucky Lewis has been entertaining audiences with his dynamic one-man comedy and music show.​ Using many forms of comedic stylings and disciplines makes this show unique and a stand-out, delighting sold out crowds everywhere.

The Bucky Lewis Show uses laughter as a weapon, successfully raising thousands of dollars for charities, and non-profits.  There are many ways people laugh at a show. The Bucky Lewis Show has them all!
Erin Harpe and the Delta Swingers
Friday, December 4, 2015: 8:00 PM
$15.00 Admission BYOB: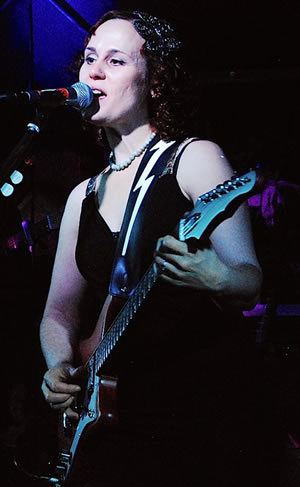 Charismatic singer and guitarist Erin Harpe, along with her band The Delta Swingers, have become favorites around New England, with a growing fan base around the world. Their unique brand of dance music is rooted in vintage 1930's Mississippi delta blues, then shaken and stirred with other genres like soul, funk, and reggae, evoking a wild southern juke joint where the whiskey and gin are flowing and everybody's dancing!

"This blues chanteuse breathes new, whiskey-soaked life into the likes of Memphis Minnie and Kansas Joe, with a sound that's uniquely Charles River Delta. "Boston's Weekly Dig
Tony V and Jody Sloan: Comedy
Saturday, December 12, 2015: 8:00 PM
$15.00 Admission BYOB:
Tony V started his stand-up comedy career in 1982 after attending several shows at Boston's prestigious Comedy Connection. He wandered in one night, quite by accident, looking for a little stress relief from a high pressure job as a case worker at the Somerville Mental Health Center. Tony's street wise humor tempered with a genuine feel for the human condition quickly propelled him to headliner status on the national comedy club circuit.

In 1986 Tony V was named "Funniest Person in Massachusetts" by Showtime television. He followed this achievement with several performances on HBO, the Arts and Entertainment Network, Comedy Central and MTV.  Spending time in New York and L. A. paid off with multiple highly acclaimed appearances on Late Night w/ Conan O'Brien, Comedy Central's Tough Crowd w/ Colin Quinn and several sit-coms including Seinfeld, Boston Common, The Single Guy and Dr. Katz Professional Therapist.  He is no stranger to benefits and fund raisers performing at functions for The American Cancer Society, Children's Hospital, The Boston Food Bank and many other charitable organizations. Along with being a popular headliner at clubs and colleges all over the free world, Tony V has worked with Jay Leno, Dennis Miller, Bobcat Goldthwait, Steven Wright, Adam Sandler and countless other friends and nationally known acts. Tony has opened for Kenny Rogers, The Temptations, Billy Ray Cyrus, The Beach Boys and Joan Jett.

For the past fifteen years Jody Sloan has honed her skills as a "sit down" comic working as a "Conducktor" for Boston Duck Tours.  She created and developed her tour guide persona;  Penny Wise, a tongue-in-cheek, saucy, southern belle. She has performed before an audience over 4000 times and still packs a fresh punch!  Five years ago Jody took a "stand" bringing her act to venues throughout New England.  She has been a three time contestant in the Boston Comedy Festival, performed in the Laugh Your Asheville Off Festival and was a Finalist in the Funniest Comic in New Hampshire Contest.  Impishly perverse, her style is thoughtful, yet edgy; touching on age, divorce, and being raised by wolves.  She'll have you convinced that in the darkest corners of truth is comedy.
Professor Harp and TJ Wheeler Blues
Friday, November 27, 2015: 8:00 PM
$15.00 Admission BYOB:
Although born and raised as Hugh Holmes of Boston, Ma., the emanations from his harmonica and vocals make it clear that Professor Harp has the blues of Texas and the whole wide Delta coursing through his veins.

Primarily playing a sparse, yet full-sounding brand of no-nonsense, no-frills Texas style blues, Professor Harp specializes in what he calls, 'roots music'. "It's whatever makes me feel good and moves me, so to speak." Indeed it has evolved while continuing to move audiences for decades.

Under the influence of many diverse blues greats, Professor Harp has developed a robust playing style where he alternately and simultaneously employs the standard or traditional 'electrified' blues harp. The Professor tops this off by singing the blues with an infectious fervor, supported at his strictest insistence by only top-flight musicians on guitar, bass, and drums.

Professor Harp performed with various bands throughout the Northeast including legends Solomon Burke and Luther 'Guitar Jr.' Johnson and played live on NBC's Today Show. One of his most memorable  was when his harp helped to swell the room, in a spontaneous jam with his old mentor, the inimitable bluesman Muddy Waters.

Joining the band is Blues Great TJ Wheeler.  TJ Wheeler is a treasure of American Roots music, or better put, a living, one man Juke Joint! He performs his gumbo of Blues, Jazz, Ragtime and more on a wide variety of instruments, including the 7 string guitar, Ukulele, Tenor Banjo, 1 string Diddley Bow, Tap percussion, nitty gritty vocals & Kazoo! As a soloist or with his band, Tj takes his audience to the Blues of the Mississippi Delta, New Orleans second line jazz to his own contemporary blues and jazz original compositions.