Bruce Katz Band
Saturday, October 10, 2015: 8:00 PM
$20.00 in Advance: $25.00 at the Door BYOB: Air Conditioned
Pitman's Freight Room and House Rockin' Productions are proud to present the Bruce Katz Blues Band. Bruce was nominated for the Blues Music Award's Pinetop Perkins Piano Player of the Year Award for 2015, the fourth time he's been nominated for that prestigious title! Bruce occupys a unique space where blues, soul-jazz, jam-band rock, and all aspects of Americana Music collide into a style of original music all his own.

Besides leading the Bruce Katz Band, Bruce performs regularly with the Delbert McClinton Band, Jaimoe's Jasssz Band, John Hammond, Maria Muldaur, and other artists as well. He was a member of the Gregg Allman Band from 2007- 2013. Over the past twenty five years, Bruce has been an in-demand sideman as well as leading his own band. He has played and recorded with many of the leading names in blues and roots music, appearing on over 70 albums with artists such as Ronnie Earl, John Hammond, Delbert McClinton, Gregg Allman, Duke Robillard, Joe Louis Walker, Little Milton, Maria Muldaur, Jimmy Witherspoon, Paul Rishell, Mighty Sam McClain, Debbie Davies, David "Fathead" Newman. He's also been known to sit in with the Allman Brothers Band.
INFO: Advanced payment has been set up to go through PayPal. You do not need a PayPal account to purchase. It will accept all major credit cards. Tickets purchased in advance will be available at the door prior to the event
The Slam Allen Blues Band
Friday, October 30, 2015: 8:00 PM
$25.00 At Door: $20.00 in Advance: :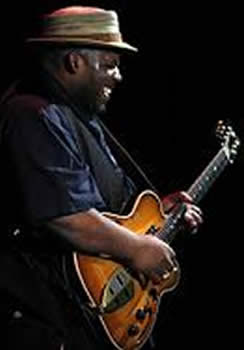 Pitman's Freight Room and House Rockin Productions are pleased to present the Slam Allen Blues Band.

For over 20 years, Slam Allen has been entertaining audiences with his unique blend of soul and blues. Playing the famous Chitlin' Circuit as well as performing around the world, Allen's music and enthusiasm has been shared with thousands of people.

For the past eight years he has played an important role, as the lead singer and guitarist, in the legendary James Cotton Band. "It's one of the highlights and privileges of my life to play with Cotton" says Allen, "He is one of the last living legends, and there's so much history there. Cotton was directly connected to Muddy Waters -- who was a major factor in the blues world as well as being one of my all time favorites. Playing with Cotton is such a great experience for me and there are things you can learn from him that you can't learn from any school. It's a great honor."

Music is in Allen's blood -- he got his start from his father and uncles who were known as the Allen Brothers Band. Allen carries on the family legacy wherever he goes. His music runs deep. "When I play," says Allen, "People who may have never heard of me leave the show with a feeling that we're old friends or family."

From B.B. King to Otis Redding, Slam has a way of making you feel the Soul of the Music. It's often difficult to tell if he's doing one of his originals or an old blues or soul cover. Regardless, he makes all the music his own.

For reservations please call 527-0043.
INFO: Advanced payment has been set up to go through PayPal. You do not need a PayPal account to purchase. It will accept all major credit cards. Tickets purchased in advance will be available at the door prior to the event
The Bel Airs
Friday, October 16, 2015: 8:00 PM
$15.00 Admission BYOB: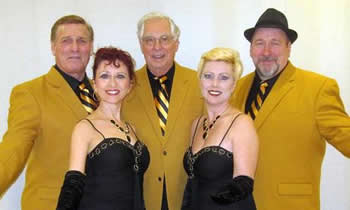 The Bel Airs perform Doo Wop and 50-60's Vintage Rock 'N' Roll, with elegant five part harmonies and stereophonic instrumental arrangements. Their music takes you on a romantic journey back to classic cars, sweet sixteen girls wearing saddle shoes, bobby socks and poodle skirts.

Their five members are Gabe Cohen, Dick Kruppa, Randy Filliger, Denice Filliger and Denise Therrien. Special Guest & Founding Member Trisha Sweeney
Bruce Marshall Group
Friday October 23, 201: 8:00 PM
$!5.00 at the door: BYOB
The Bruce Marshall Group treats their fans to a soaring ride as they rip through a catalog of original material that truly sets this band apart. They love to mix it up, whether it's pulling off exciting jams that build with dynamics and layering, or playing the concise arrangements of their songs with discipline and taste. The sound defies categorization, slipping seamlessly around touches of Blues, R&B, Rock and Southern Boogie. The interplay between Bruce and longtime guitarist Dave Cournoyer is the heart and soul of their performances. The songs are mostly upbeat, but even those dealing with love lost and missed opportunities, carry an underlying sense of hope and optimism. The band features original music by Bruce plus a high energy mix of Allman Brothers Southern Rock, Blues, Soul and Funk. Bruce is a member of The Toy Caldwell Band (Marshall Tucker) and has performed with Dire Straits, BB King, James Montgomery, Kate Taylor, Susan Tedeschi and more.

BRUCE MARSHALL, Lead Vocals: Electric Acoustic Guitars, DAVE COURNOYER: Guitarist/Vocalist, PETE PREMO: Drums: and ANDREW RENAULT, on Bass