Dance Night with The Juke Joint 5 Blues Band
Friday, July 24, 2015: 8:00 PM
$15.00 Admission BYOB: BYOF: Air Conditioned
If you're looking for down home, old school, no-nonsense, house-rocking, kickass electric blues, you've come to the right place! The Juke Joint 5 focuses on the sounds you might have heard emerging in the early 1950s from some distant, static-crackling, late night radio station: jumped-up urban rhythm and blues; the raw Delta country sound just recently getting electrified in Chicago; Memphis rockabilly; and the primitive beginnings of rock and roll. John Bunszell (bass); Dick Lourie (saxophone); Gretchen Bostrom (vocals); Silvertone Steve (guitar); Noah Teshu (drums). The band's high-energy vocals are provided by Gretchen Bostrom, performing the JJ5′s wide range of songs by Ruth Brown, Louis Jordan, LaVern Baker, Don Covay, Big Mama Thornton, Little Richard, Slim Harpo, and other such classic blues/r&b performers. Joining Gretchen in the front line are two old pro blues players: Silvertone Steve is a slide guitar master and veteran of J.B. Hutto's band; gritty saxman Dick "the Poet" Lourie performed frequently with the late Big Jack Johnson. John Bunszell on bass and drummer Noah Teshu make up the band's solid rhythm section.
Mind Games and Hypnosis
Thursday, July 16, 2015: 8:00 PM
$25.00 Admission BYOB: BYOF: Air Conditioned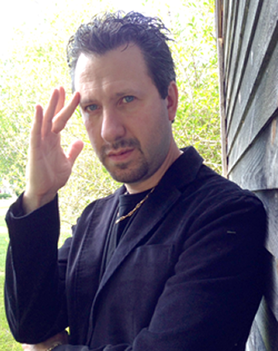 Proceeds to Benefit
Experience a unique evening of mind altering comedyand entertainment as comedic hypnotist Steve Coppola and his opening act the mezmerizing mentalist Richard Pierce.

Silent auctions and tons of laughs
To purchase advance tickets go to Lions Den: Pitman's Freight Room: Coppolla Physic al Therapy or call Neal Lovett @ 603-759-4651. or purchase at the door
Dance Night w/ Tall Granite Big Band
Saturday, July 11, 2015: 8:00 PM
$15.00 Admission: BYOB
Air Conditioned
If it can swing, the Tall Granite Big Band will play it! From the classics by Miller, Goodman, Basie, and Ellington to The Beatles and Donovan, the Tall Granite Big Band brings it on in Swing-time! Organized in Concord last year, this happenin' 18-member band has its roots in Texas with a unique collection of charts assembled and commissioned over many decades by Houston bandleader Johnny Dyson. Wanting his Swing legacy to live on, the 92-year-old Dyson was delighted to see his dance-oriented music travel north to New Hampshire last year, where a bunch of New Hampshire musicians have recognized its significance and are proud to keep it alive. So, whether you're a dancer or a Swing fan, we hope you'll join us again at Pitman's Freight Room for another great evening of music and fun!

So if you're done with dueling banjos, screaming guitars, or amorphous sonic navel-gazing, grab your two-tone shoes, slick back that hair, turn back the clock and swing and stomp or just relax to the Tall Granite Jazz Band's smokey horns and good-time jazz
James Montgomery & Friends
Friday, July 10, 2015: 8:00 PM
$20.00 Admission: BYOB
Air Conditioned
When blues legend James Montgomery plays the harmonica, he "brings it on home". Whether it's recording with Kid Rock, sitting in with Gregg Allman, or fronting his hot band of thirty years, Montgomery plays with authority. While growing up in Detroit he learned first-hand from the masters - James Cotton, John Lee Hooker, and Jr. Wells - at the legendary "Chessmate." Over the years, he's carried on in the tradition and continues to be a vital presence in Blues as one of the most dynamic performers on the scene.

In 1970, while attending Boston University, Montgomery formed the James Montgomery Band. His inimitable (oh yeah, he majored in English) harmonica playing combined with his incredibly energetic live shows led to the band's quick ascension on the New England music scene. Within two years, the James Montgomery band was among the hottest acts in Boston along with J. Geils and Aerosmith, and they were quickly signed to a multi-album deal with Capricorn Records.

David Hull (the new bassist for Aerosmith and Fahrenheit), George McCann (guitarist for the new Blues Brothers and Steven Tylers country band and Chuck Farrell on guitarx
Dance Night with Annie and the Orphans
Saturday, July 25, 2015: 8:00 PM
$15.00 Admission: BYOB
Air Conditioned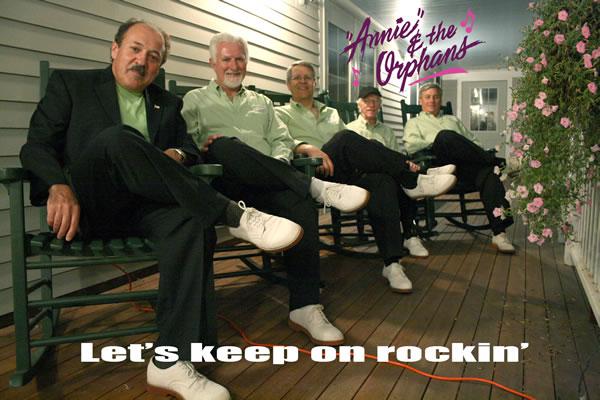 "Annie" and the Orphans, the popular six piece Lakes Region band, was formed in 1964 and has performed in many venues for over 50 years, including as a featured act on the cruise ship M/S Mount Washington.

Lead vocalist Anatole "Annie" Paquette and bass player, Bob McNab are two of the original performers. Joining them to rock the night away are Roy D'Innocenzo, guitarist, Steve Giotas on drums, pianist, Peter "The Wildman" Previte and Scottie "The Horn" Groleau, saxophonist.

The band specializes in rock 'n roll and during their performance the musicians will intertwine dance music from the Fabulous Fifties and the British Invasion of the sixties. This group always gives their audience a high energy performance and promises to get your spirits up and your toes tapping!

Rock 'n Roll with Anatole!!!
The Jazz Twins
Friday, July 17, 2015: 8:00 PM
$15.00 Admission: BYOB
Air Conditioned
The New York Times calls jazz musicians Peter and Will Anderson, "Virtuosos on clarinet and saxophone." Currently residing in New York City, they toured the U.K. at only 15-years-old playing swing and bebop. Masters graduates of Juilliard, they've performed with Wynton Marsalis, Wycliffe Gordon and the Village Vanguard Orchestra. They've headlined at NewYork' Jazz at Lincoln Center, Orleans Jazz Festival, Sarasota FL Jazz Festival, South Carolina's Jazz Corner, Seattle's Triple Door, and Iowa's Bix Beiderbecke Festiva l. in "Four New Releases to Make You Love Jazz." The Anderson's;Trio, featuring guitarist Alex Wintz, tours internationally and the Washington Post calls them imaginatively and consistently bring a fresh perspective to classic jazz tunes." Their program is an exciting mix of American Songbook, Blues, and Swing Era Hits.
Hiroya Tsukamoto
Thursday, July 23, 2015: 8:00 PM
$15.00 Admission: BYOB: Air Conditioned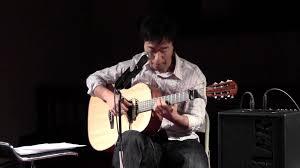 Hiroya Tsukamotois a one of a kind composer, guitarist and singer-songwriter from Kyoto, Japan. He began playing the five-string banjo when he was thirteen, and took up the guitar shortly after. In 1994, Hiroya entered The Osaka University and while at college in Japan, Hiroya was introduced to a musical and social movement in South America called Nueva Cancion headed by musical legends such as Victor Jara and Violeta Parra.

Hiroya has been leading concerts with his group including several appearances at Blue Note in New York and he performed with Esperanza Spalding, Marta Gomez, Kendrick Scott(The Crusadors), Pete Kennedy(The Kennedys) and Dave Maxwell(Muddy Waters Band).
Dave Andrews and PJ Walsh: Comedy Night

Saturday, July 18, 2015: 8:00 PM
$15.00 Admission: BYOB: Air Conditioned
Funny Musician Dave Andrews draws on an interesting background to showcase his ample talents. A classically trained vocalist with jazz guitar chops and a love of the blues harmonica, his act is his own blend of humor, music and nostalgia. With his signature hat and guitar, comedian Dave Andrews hits the stage running with an arsenal of impressions and one-liners delivered with impeccable timing and ease. Audiences are consistently buckled over! Starting out as a musician playing in wedding bands and lounges he quickly became one of Cape Cod's best known solo performers. He soon discovered he was also pretty quick with a joke between songs and took a stab at straight comedy. With over 30 years performing experience he is a repeat performer for Carnival Cruise Lines and Caesar's Pocono Resorts. Dave has entertained at well over 100 college campuses and been the opening act for rock 'n rollers like Huey Lewis and the News, Aaron Neville Glady Knight, and KC and the Sunshine Band.

PJ Walsh is known as one of the hardest working comedians behind the microphone, and for good reason. His boundless energy and the strength of his physical comedy have carried him around the globe, from the Winter Olympic Games in Salt Lake City, to overseas tours for U.S. troops in several countries including Iraq Afghanistan. PJ's years touring with the stars of the Blue Collar Comedy Tour found him performing on celebrated stages including Radio City Music Hall, Universal Amphitheater and the Ryman Auditorium with legends such as Bill Engvall, Larry the Cable Guy, Ron White, and Jeff Foxworthy. A successful show on Sirius Satellite radio a role in the Lionsgate feature film "Delta Farce" followed. Walsh has served our country, worked in the White House pretty much lied to Mother Teresa. PJ is going to hell. Join him. In 2014 PJ entertained United States military service members in fifteen countries around the globe with The GI's Of Comedy