http://www.youtube.com/watch?v=J6LKdPuNgxg
Charlie Farren with Chuck Farrell and Jill Ducsai
Saturday, September 6, 2014: 8:00 PM
$15.00 Admission: BYOB: Air Conditioned
Charlie FARREN has long been known for great songs, great singing, and for outstanding live solo acoustic performances. Alone onstage with acoustic guitar in hand, Charlie captures an audience with his unique delivery, insightful lyrics, memorable songs, soaring vocal, and subtle yet innovative guitar style. It wasn't always quite so subtle, as Charlie formed this original self-taught style with a history of successful, hard-crunching rock bands throughout the 1980s.

Charlie emerged onto the national scene in the early '80s as lead singer and guitarist with THE JOE PERRY PROJECT. In 1986 Charlie, along with Dave Hull (Joe Perry Project) and John Muzzy, formed FARRENHEIT which made FARRENHEIT one of the premier new rock acts and receiving awards, media attention and new fans across the country.

Joining Charlie will be Chuck Farrell and Jill Ducsai. Chuck has 20 years of experience in many diverse styles of music, with roots in rock and roll, R and B to folk music. Originally from Ontario, Canada, Chuck now calls central NH home as he brings his diverse talents to the area. Jill has been performing around Central NH for several years and her voice and her guitar will complete the Trio.
Comedy Night: Mark Scalia and Shaun Bedgood
Saturday, September 13, 2014: 8:00 PM
$15.00 Admission: BYOB: Air Conditioned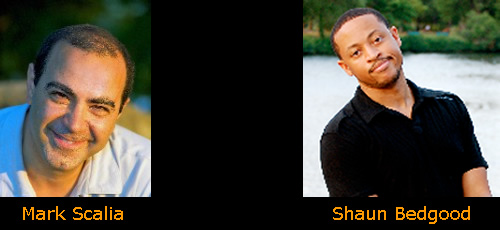 Since starting his stand up career in Boston, Mark Scalia has entertained thousands of people at comedy clubs, colleges and universities, corporate and private events, and religious venues across the United States and Canada for over 20 years. He brings his audiences into the show by being funny, clever, personable and warm. He's a crowd favorite wherever he goes!

Born Darren Rashaun Bedgood, in Selma, Alabama, Shaun Bedgood hit the comedy scene in November 2004 and has been going strong ever since. With performances at venues such as the Comedy Studio in Cambridge, Dick Doherty's Comedy Vault, and The Comic Strip Live in Manhattan, N.Y., Shaun is quickly making a name for himself. Shaun's incredible stage presence coupled with undeniable raw talent has caught the eye of some well known veterans. Rick Jenkins of the Comedy Studio stated "When the Boston Globe called me about a piece called 'Young, Fresh and Funny' Shaun Bedgood was the first name I mentioned. We've showcased him on the Studio stage for news media and television producers, and he always makes us look good." In addition to stand-up, Shaun is currently studying Theater at Suffolk University. He has performed in several productions including "Shouting Theater in a Crowded Fire" directed by Wes Savick, and "Circa" directed by Caitlin Langstaff. Shaun can be seen performing throughout the New England area and New York.
Tyler Road Bluegrass Band
Saturday, August 20, 2014: 8:00 PM
$12.00 Admission: BYOB: Air Conditioned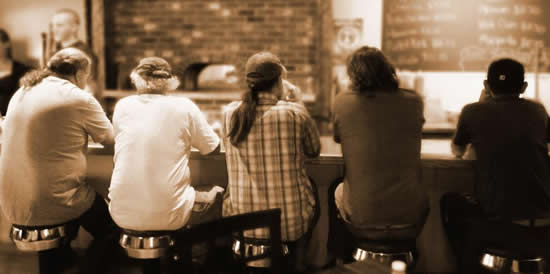 Tyler Road has been performing publicly and at private functions since 2003. Tyler Road has acquired the talent of various musicians from central NH to create a blend of music that you will not find anywhere else. With the combination of banjo, acoustic guitar, fiddle, mandolin, bass, accordion, box drum and bluesy vocals, Tyler Road creates the best foot stomping jams in the Northeast. Tyler Road has performed at arts and music festivals across New England.

Scott: Guitar, Dobro, Vocals, Steve: Banjo, Vocals, Theresa: Viola Dave: Mandolin, Vocals Andy: Percussion, Vocals Woody: Mandolin, Banjo Beth: Stand Up Bass Drew: Djembe
Comedy Night: Paul Gilligan, Dan Crohn
Saturday, October 18, 2014: 9:00 PM
$15.00 Admission: BYOB: Air Conditioned
Kid Pinky and his Restless Knights
Saturday, September 27, 2014: 8:00 PM
$12.00 Admission: BYOB: Air Conditioned

Kid Pinky and his Restless Knights is a retro style 4 piece blues band from the Concord area that is both authentic and unique but not loud. The band is a throwback to a more simple but nasty kind of Blues, and with its dedicated stylists, engaging personalities and comfortable volume levels, the band is always intimate and FUN! Kid Pinky plays blues that will
KNOCK YOU OUT!!
Tom Wright- Guitar/Vocals
John Hoik– DRUMS
Steve Prisby – vocals, piano, harmonica
Jock Irvine– doUBLE Bass/VocalS
Jeremy Wallace Trio
Friday, October 3, 2014: 8:00 PM
$12.00 Admission: BYOB: Air Conditioned
Jeremy Wallace is a rock singer/songwriter from New Jersey. He has performed at various venues on the East Coast, and has opened for artists such as Dave Van Ronk, John Hammond, and Freedy Johnston. Wallace took guitar lessons from Van Ronk, who sang a duet with Wallace on the song Samson and Delila on Wallace's second album, She Used to Call Me Honey.

Jeremy has a gritty, graveled voice that sounds as though he's been gargling with gasoline. A bushel-full of song upon song about love-gone-oh-so-wrong, the romance of hanging out in deadbeat bars, the salvation of whiskey and making lots of bad choices. A minimalistic blues-based sound soaked in days long gone by – all drums with brushes (Tom Costagliola) and stand-up bass (Matt Gruenberg).
John Primer and the Real Deal Blues Band
Saturday, November 8, 2014: 8:00 PM
$15.00 Admission: BYOB: Air Conditioned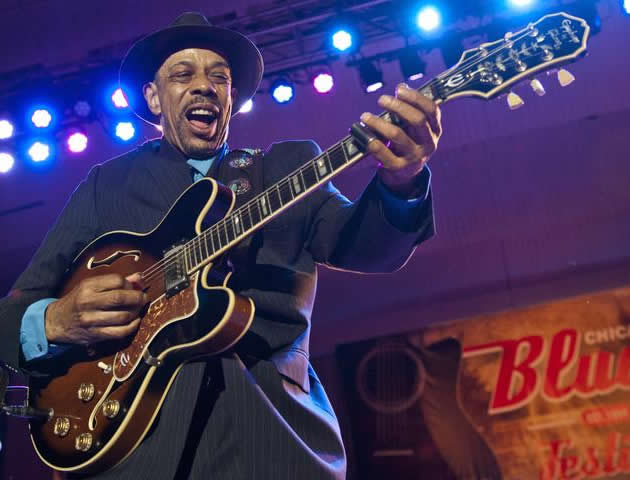 Grammy Award Nominee and Handy Award Nominee, John Primer is truly "The Real Deal" Fresh off the heels of his great success with the Muddy Waters Band, John signed on with the legendary Magic Slim. For the next 14 years, he toured with Magic Slim & The Teardrops, bringing tight, house-rocking sounds to every corner of the earth. But John's days as a sideman were numbered with his solo career taking off in the early to mid-90s with the critically acclaimed album "Stuff You Got To Watch," for Earwig Music in '93, and in '95 the veteran blues man released the critically acclaimed "The Real Deal," on Code Blue. He has since toured extensively in support of his ten solo albums to date. With John Primer's strong traditionalist blues phrasing and lightning fast slide techniques, few artists can match him. A master storyteller and songwriter, his catalog of songs is endless and his sound is unforgettable. John Primer & The Real Deal Blues Band continue to electrify audiences at clubs and festivals around the world, and remain a driving force in the world of Blues music today.
The Nick Goumas Jazz Quintet
Friday, September 19, 2014: 8:00 PM
$12.00 Admission: BYOB: Air Conditioned
Tenor and soprano saxophonist Nick Goumas has developed his own mature, imaginative and identifying style. Nick performs with energy, feeling and musical integrity. In his Quartet, he is joined by three outstanding Boston area musicians who all have outstanding credentials. Steve Hunt on piano, Barry Smith on bass and Jack Diefendorf on drums. The Nick Goumas Quartet's post Bebop, contemporary straight ahead style and it's display of rhythmic and harmonic sense produces some exciting jazz improvisation. Their growing audience has a mixture of musicians and jazz aficionados alike.

Nick and his Quartet have recently released a new CD called: Moonlight Alley.
Erik Ray Blues
Friday, August 29, 2014: 8:00 PM
$12.00 Admission: BYOB: Air Conditioned
Montana native Erik Ray has spent the past three decades purveying his brand of blues in the rough and tumble roadhouses and honky tonks of the Northwest.  His unique One Man Band show has thrilled audiences and kept rowdy dance hall floors full.  Steeped in the traditions of Delta and Chicago style blues, Traditional Country, Folk, Zydeco and Early Rock,  Erik's pulsing slide guitar and harmonica, along with his intense vocals and syncopated foot rhythms, strive to keep the Blues spirit alive and moving forward.  Erik recently relocated to New Hampshire, shifting his cowboy lifestyle to pursue a new chapter of life in the Granite State and quickly earned the right to represent NH in the International Blues Challenge and make his way all the way to the finals in Memphis!


Dance Night with the Brickyard Blues Band
Friday, September 5, 2014: 8:00 PM
$12.00 Admission: BYOB: Air Conditioned
Come join us for a great night of music, dancing and socializing. The Brickyard Blues plays all of your dance favorites from the 60's, 70's and 80's on up! They mix influences including Texas & Chicago Blues, Stax-era soul music, old-school R&B, with some roots & rockabilly thrown in. In addition to getting airplay on radio stations throughout New England, their original song, Alabama Blues Man, was picked as the Favorite Blues Song at radio stations in Orlando Florida, and Warsaw, Indiana, and has even been featured on a radio station in Belgium that showcases American roots-rock music. It's R&B plus a whole lot more.

Singer-keyboardist Alan RosenBrian James on Guitar & vocals, Tom Hoctor on sax, Bernie Rozmovits on bass, and someone on drums.
Rackey Thomas Blues Band
Saturday, August 30, 2014: 8:00 PM
$12.00 Admission: BYOB: Air Conditioned
Rackey is Back!!!
The Racky Thomas Band has been a torchbearer for the blues since its formation in 1995, when Racky Thomas collaborated with bassist Todd Carson, guitarist Nick Adams, and drummer Ted Larkin to make a demo cd, and do some gigs around the Boston area. Racky Thomas has a vast repertoire of tunes – blues from world-class bluesmen, plantation gospel (the original blues), rocking electric blues, classic and obscure blues, and Racky Thomas blues! including "Matchbox Blues", "Biscuit-Bakin' Woman", "Mona", "Sugar-coated Love", "Big Road Blues", "Hoochie-Coochie Man", and "Mojo Workin'" (to name a few).

Gutsy vocals, down and dirty harmonica, smoking guitar, a killer rhythm section delivering pure unadulterated blues, and you've got the Racky Thomas Band. Twice nominated for Boston Music Awards, and winners of the 1997 Battle of the Blues bands you've only got to experience them once to become a believer.
Craig Jaster and the Buskers
Thursday, September 11, 2014: 8:00 PM
$12.00 Admission: BYOB: Air Conditioned
"Folk impurists" with a smart, distinct voice and a kitchen sink repertoire of influences from jug band and jazz to roots rock, "The Buskers" tap the street music tradition for which they are named, then go much farther, with serious musicianship, a sense of humor, and energy to burn." (Weirs Times) Their sound is defined by deep respect for the craft of songwriting and a shared love for the inventive possibilities of improvisation.

Washington, D.C. native Craig Jaster (piano, bass, accordion, vocals) has played professionally since age 15.  A graduate of Sarah Lawrence College, he moved to New Hampshire, where he has played jazz with Delfeayo Marsalis, Tiger Okoshi and Big Joe Burrell and opened for The Yellowjackets, Arturo Sandoval, Dianne Reeves, and the late great Ray Charles.   

Kathy (KZ) Sommer (violin, mandolin, vocals) has studied and performed with latin jazz maestro Eddie Palmieri, the Turtle Island string Quartet and master fiddlers Matt Glaser, Jay Unger and mandolinist Peter Ostroushko.

Paul Hubert (guitar, vocals) has performed extensively as a solo artist on classical guitar and played with various bands including the rock group White Light. Jared Steer on drums plays with a vast number of projects and has played with the likes of Randy Roos (guitar great), Philip Hamilton and James Montgomery.
Ameranouche
Friday, September 26, 2014: 8:00 PM
$12.00 Admission: BYOB: Air Conditioned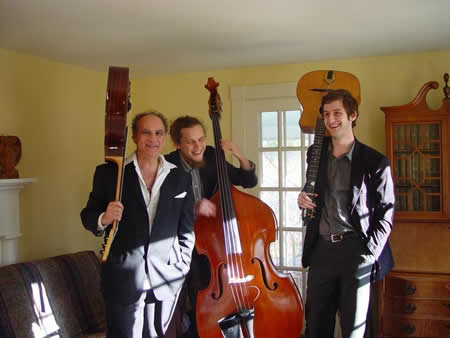 Pitman's Freight Room presents The Ameranouche Gypsy Jazz Band which features two French acoustic Gypsy jazz guitars and upright bass, and is a winner of Best of New Hampshire awards as well as being veterans of the famed Newport Jazz Festival. The group tours nationally, year-round, and has released two albums, largely of original music inspired by legendary Gypsy guitarist, Django Reinhardt. National Lampoon director, Kevin Wheatley, calls Ameranouche "the new sound of America". After hearing these folks sail through a melodious tune with such love, musicality, and signature, jaw-dropping velocity, you'll be hard pressed not to agree. www.ameranouche.com has plenty of tunes to check out -- if you've never experienced hot acoustic swing music, now's your chance to fall in love with the joyful, uplifting, and dance-inducing sounds of Gypsy jazz.