RB Stone Blues Band
Sunday, July 10, 2016: 7:00 PM
$15.00 Admission BYOB: Air Conditioned
RB Stone is a singer, songwriter and musician based in Nashville, Tennessee."He's been called a Blues Cowboy, Country Bluesman, Americana Artist and Roots Rocker, and he answers yes to all."  The first listen to R.B. Stone's Lonesome Traveler's Blues rings with the authenticity of a bluesman who has been there and done that. Nothing is forced or contrived. This guy has been down all sorts of gravel roads, often face-first. Turns out this bluesman has a whole lifetime of Americana and country music in his background. He's got a background as colorful as any mountainside spring day and songs that flow as strong as runoff of winter's snow.

Every bit of this work – from Stone's achy vocals to his honky-tonk harmonica solos to Glen Kuykendall's slide guitar and piercing solos – rings with the legitimacy of life's experiences. The ten original songs here come from Stone's tenure as a worker on a traveling railroad gang, breaking horses on a Colorado ranch and leading pack tours into the Rocky Mountains for hunters and campers, various stints as a plumber and a rodeo rider, a worker in Hollywood doing commercials, and spending time entertaining military troops. Along the way, he recorded 15 albums.

The songs here are clever and sincere. They are genuine blues in the way Hank Williams wrote blues, not by following chord progressions, but by following his heart. In "The Devil's Satisfied," Stone documents the tales of lives wasted on substance abuse. No surprise there, but the National steel of Kuykendall and Stone's own acoustic are the perfect fit for the tenor of the song with an all too common ending.

Doors open at 6pm and we are a BYO Venue.
Christine Hurley Mike Prior: Comedy
Saturday, July 16, 2016: 9:00 PM
$15.00 Admission BYOB: Air Conditioned
Christine Hurley loves what she does…making people laugh! Married to Jimmy Hurley and having five kids, Christine is never at a loss for comedic material. , Like any great comedian, Christine has an innate ability to see humor in "everyday" situations. For years, she entertained family, friends and neighbors in their kitchens, at barbeques and the grocery store aisles. The only difference now is she uses a microphone and a stage.  Her stories and views on motherhood and marriage are exactly what everyone is living through…people get it and love it! Christine Hurley has quickly become a favorite in the Boston comedy world. She works with, and is respected by Boston's comedic legends. Among them being; Don Gavin, Lenny Clarke, Steve Sweeney, Paul D'Angelo, Paul Nardizzi, Patty Ross, Tony V, Loretta Laroche,…and her biggest fan and mentor Johnny Pizzi.
Mike Prior has toured with several national recording artists such as Weird Al Yankovick, and Randy Travis. He was one of the featured performers on a Comedy Central special in 2004, and has played supporting roles in commercials for the New England Aquarium and Boston Center for the Arts.  His ability to work clean has made him a fan favorite at hundreds of corporate and college venues. Mike has an amazing ability to turn life's most frustrating moments into hilarious stories in which everyone can relate.  The victim of a recent mugging, Mike now calls himself a professional victim.  He believes that if there was ever a school for professional criminals, he would be the first homework assignment.
The Gerry Beaudoin Jazz Trio
Friday, July 22, 2016: 8:00 PM
$15.00 Admission BYOB: Air Conditioned
The Gerry Beaudoin Trio is the musical vehicle for award winning jazz and blues guitarist Gerry Beaudoin. Called "New England's premier jazz guitarist" by Just Jazz Guitar Magazine and "A swing guitar master" by the Boston Globe, Gerry has strong ties to the Boston area and New England. A lifelong resident of Waltham, Mass., Gerry is a graduate of Berklee College of Music and an adjunct professor of music at Quincy College. His performance on the DVD "Live at the Stoneham Theater" was singled out by jazz historian Scott Yanow in his book The Great Guitarists as one of the "finest examples of jazz guitar on film." For over thirty years the Gerry Beaudoin Trio has been a fixture on the New England jazz scene and the national jazz stage.

Musical collaborations with major artists in performance and recordings include Grammy nominated vocalist Karrin Allyson, Grammy winning saxophonist, pianist and arranger Fred Lipsius from the seminal jazz/rock group Blood, Sweat and Tears, saxophonists Harry Allen and Rich Lataille from Roomful of Blues, guitarists Howard Alden, Ronnie Earl, Joe Louis Walker, Duke Robillard,  harmonica player from the Eric Clapton and Muddy Waters band, Jerry Portnoy and legendary guitarist Jay Geils.  The Gerry Beaudoin Trio consists of Gerry with his son Gerard Beaudoin on vibes and long time friend and musical collaborator Bob Niske on acoustic bass. Jazz festival impresario Bart Weisman said of the Gerry Beaudoin Trio, " The father and son team weave sinuous lines and complex musical phrases truly in the tradition of jazz, supported by the rock solid bass of Bob Nieske.
Downtown Dave and the Deep Pockets
Friday, July 15, 2016: 8:00 PM
$15.00 Admission BYOB: Air Conditioned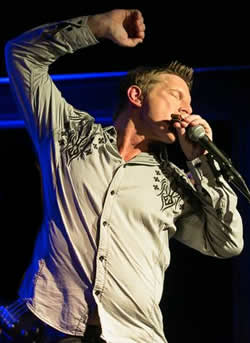 The Deep Pockets are impassioned in Blues and R&B music. We have been playing our heart and souls out throughout Southern NH for the past several years.  We play honest, fun, real, and up tempo music.  We like to see people having fun on and off the dance floor.  A mix of originals and one off covers, done with our own pockets style.  Energetic and fun, while maintaining a great respect for room and band dynamics.  We continue to make many great new fans and friends at every show….hope to see you there!

Band Members :  Dave Glannon -  Harmonica/ Vocals;  Mike Rivela -  Guitar/ Vocals;  Joe Zangri -  Bass/ Vocals;  Rick King – Drums; Leroy Pina -  Drums
Bucky Lewis: Comedy
Friday, July 1, 2016: 8:00 PM
$20.00 Admission BYOB: Air Conditioned
For over 25 years the Bucky Lewis has been entertaining audiences with his dynamic one-man comedy and music show.​ Using many forms of comedic stylings and disciplines makes this show unique and a stand-out, delighting sold out crowds everywhere. The Bucky Lewis Show uses laughter as a weapon, successfully raising thousands of dollars for charities, and non-profits. There are many ways people laugh at a show. The Bucky Lewis Show has them all! 

INFO: Advanced payment has been set up to go through PayPal. You do not need a PayPal account to purchase. It will accept all major credit cards. Tickets purchased in advance will be available at the door prior to the event
Charlie Keating Band
Friday, July 8, 2016: 8:00 PM
$15.00 Admission BYOB: Air Conditioned
The Charlie Keating Band is a New England Funky, Soulful, Blues inspired band. But don't call them just a blues band. It's just CKB TCB.  Featuring the area's premier Slide guitar player"Slidemaster C" himself Charlie "Slideman" Keating. Representing the MBS at the 29th annual International Blues Challengein MemphisTN. 2013. CKB delivers their own brand of rock, funk, boogie and a bit of blues. CKB has opened for Ronnie Earl, Duke Robilard and Tony Lynn Washington Charlie Keating on guitar, vocals & slide Lenny Turnquist on Bass Tim Sweeney on Drums and Dave Dexter on keyboards. A unique slide guitar style that while totally their own channels such greats as Duane Allman and Elmore James  can be heard at their performances. Many have compared the guitar playing to an early SRV due to Charlie's ability to combine lead and rhythm guitar simultaneously Uniformly listeners are amazed at the big sound of the band. Charlie is also a gifted and prolific songwriter, With one CD  under their belt CKB has gained worldwide airplay

Swing Dance with the Tall Granite Big Band
Saturday Jusy 23, 2016 8:00 PM
Saturday August 20, 2016 8: PM
$15.00 Admission BYOB: Air Conditioned
From the syncopated heart of New Hampshire, the Tall Granite Big Band carries on its Swing tradition Texas style! Organized in Concord last year, the 18-member band has its roots in Texas with music collected over seven decades by the late Houston bandleader Johnny Dyson. The Dyson band's early repertoire included classics from Glenn Miller, Count Basie, Perez Prado, Duke Ellington, Harry James, and other greats. But Dyson also worked closely with Texas arrang­ers including Don Elam and Fred Baetge, and over time his bands acquired unique material reflecting the vital "Third Coast" culture and its Blues and Latin influences, which help distinguish Tall Granite today. Today, our members are drawn from around the Granite State and our focus – as it was in Dyson's day -- remains on dancing! Our Pitman's Dance Nights typically are prefaced with a complimentary Swing dance lesson from area instructors to help everyone acquire or brush up their moves! So if you're done with dueling banjos or screaming guitars, grab your two-tone shoes, slick back that hair, join us at the excellent Pitman's Freight Room and swing and sway or just relax to the Tall Granite Big Band's smokey horns and unique sound!

Free Dance Lesson before the show from 7 – 8 PM. Doors open at 6:00 PM
Sean Chambers Band
Saturday, July 2, 2016: 8:00 PM
$20.00 Admission BYOB: Air Conditioned
Pitman's Freight Room is pleased to host the Sean Chambers Band. Florida born Sean Chambers toured with the legendary Hubert Sumlin as his guitarist and band leader from 1998-2003. Britain's own Guitarist magazine named Chambers as "One of the top 50 blues guitarists of the last century." Sean struck out on his own and in 2003 was asked to headline the prestigious Maryport Blues Festival.  When his album Ten Til Midnight was released in October, 2009, it appeared on the Living Blues chart for the first three months after its release. The title cut was featured on "The House of Blues Radio Hour" as a "Blues Breaker."

In 2013 Sean Chambers released his latest album, The Rock House Sessions, on Blue Heat Records. The album received great reviews and was also nominated for a Blues Blast Music Award in 2014 for "Best Rock Blues Album of the year. The Rock House Sessions features a number of firsts: it's the first album he's recorded as Sean Chambers rather than the Sean Chambers Band; producing for the first time is legendary keyboard player Reese Wynans (best-known for his long tenure as a member of Stevie Ray Vaughan's band).

Touring Band: Todd Cook – Bass / Kristopher R Schnebelen – Drums / Sean Chambers - Guitar/Vocals
INFO: Advanced payment has been set up to go through PayPal. You do not need a PayPal account to purchase. It will accept all major credit cards. Tickets purchased in advance will be available at the door prior to the event
Dance with the Brandy Band
Sunday, July 3, 2016: 4:00 PM
$15.00 Admission: BYOB: Air Conditioned
Brandy is a 5 piece, high energy band that has been recognized throughout New England as one of the premier bands with three great male vocalists and female vocalist Ceci Cannon.  With almost 100 performances per year, Brandy has been a mainstay on the New England music scene and has performed for numerous celebrities, charities and dignitaries. Brandy brings the talent, professionalism and experience to each performance that will ensure a packed dance floor.  Brandy is truly an extraordinary band with a great range of music, covering artists from every era including, 70's , 80's, 90's and today's most current hits.  Come out and hear the band play great renditions of artists like  Bruno Mars, Adele, Eric Clapton, Journey, Pharrell Williams, Maroon 5, AC/DC, Earth Wind & Fire, Aerosmith, Roy Orbison and much more! Carolyn Cannon – vocals;  Mandy Powers – vocals;  Steve Carmada – horns, keyboard, vocals;  Rudi Glenn Ridosh – guitar, vocals;  Joe Anthony – bass guitar, vocals;  Fil Ramil – guitar, vocals;  Perry James - Drums