http://www.youtube.com/watch?v=J6LKdPuNgxg
Bruce Marshall and the Nor'easters
Saturday, November 11, 2014: 8:00 PM
$15.00 Admission: BYOB:


Come join us for a night of great music and dancing!  The Nor'easters feature original music by Bruce plus a high energy mix of Allman Brothers Southern Rock, Blues, Soul and Funk.  Bruce is a member of The Toy Caldwell Band (Marshall Tucker) and has performed with Dire Straits, BB King, James Montgomery, Kate Taylor, Susan Tedeschi and more.

Chuck Farrell Guitar and Vocals, Al Hospers on Bass,  Eric Foye on drums, and Joe Alperti on sax.
The John Funkhouser Jazz Quartet
Friday, November 7, 2014: 8:00 PM
$12.00 Admission: BYOB:
A native of the Boston area, multi-instrumentalist and composer John Funkhouser was educated at Cornell University and New England Conservatory and currently teaches at the Berklee College of Music. Besides leading his quartet, Funkhouser is in demand as both a pianist and a bassist, having shared the stage with luminaries from Grammy-nominated vocalists Luciana Souza and Tierney Sutton to piano icon Ran Blake and Afro-Cuban drummer Francisco Mela to South Indian percussionist Trichy Sankaran and the world-jazz group Natraj.  John Funkhouser  will perform again at Pitman's with bassist Greg Loughman, guitaristPhil Sargent and drummer Mike Connors.  The Band loves rock, too, and you can hear that in their approach.

The John Funkhouser Quartet is a band of  Musicians without Borders. With influences as wide ranging as Woody Guthrie, Thelonious Monk, Frank Zappa, Frederic Chopin, and Ravi Shankar, the Quartet "employs complex rhythms, deep soulful moments, rock and passion and sensitivity." (-Bebop Spoken Here). Each of Funkhouser's expansive compositions inhibits a unique universe, while the band seamlessly integrates composed music with improvisation into "a whirling dervish of sound and light." Bop-n-Jazz.com
Dance Night with The Erik Ray One-Man Big Band
Friday, October 31, 2014: 8:00 PM
$12.00 Admission: BYOB:
Come celebrate Halloween with Montana native Erik Ray  at Pitman's Freight Room. Erik has spent the past three decades purveying his brand of blues in the rough and tumble roadhouses and honky tonks of the Northwest. His unique One Man Big Band show has thrilled audiences and kept rowdy dance hall floors full. Steeped in the traditions of Delta and Chicago style blues, Traditional Country, Folk, Zydeco and Early Rock, Erik's pulsing slide guitar and harmonica, along with his intense vocals and syncopated foot rhythms, strive to keep the Blues spirit alive and moving forward. Erik recently relocated to New Hampshire, shifting his cowboy lifestyle to pursue a new chapter of life in the Granite State and quickly earned the right to represent NH in the International Blues Challenge and make his way all the way to the finals in Memphis! Wear your Halloween Costume and the best outfit chosen by the crowd will win 4 free tickets to a future show at Pitman's!

Lite appetizers and popcorn will be available during the show.
John Primer and the Real Deal Blues Band
Saturday, November 8, 2014: 8:00 PM
$20.00 admission before the show: $25.00 admission at door: BYOB: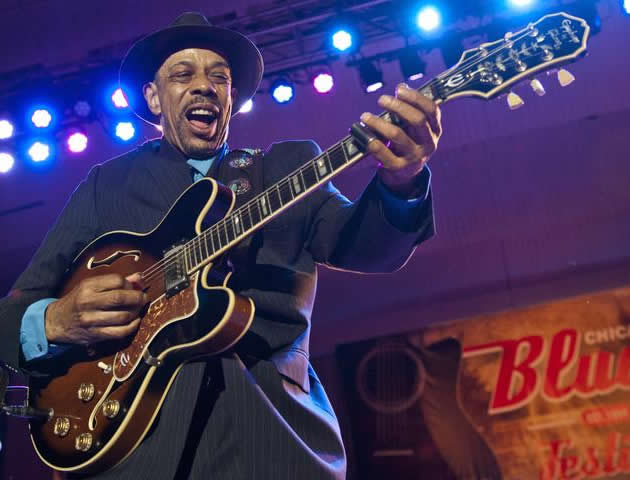 Grammy Award Nominee and Handy Award Nominee, John Primer is truly "The Real Deal" Fresh off the heels of his great success with the Muddy Waters Band, John signed on with the legendary Magic Slim. For the next 14 years, he toured with Magic Slim & The Teardrops, bringing tight, house-rocking sounds to every corner of the earth. But John's days as a sideman were numbered with his solo career taking off in the early to mid-90s with the critically acclaimed album "Stuff You Got To Watch," for Earwig Music in '93, and in '95 the veteran blues man released the critically acclaimed "The Real Deal," on Code Blue. He has since toured extensively in support of his ten solo albums to date. With John Primer's strong traditionalist blues phrasing and lightning fast slide techniques, few artists can match him. A master storyteller and songwriter, his catalog of songs is endless and his sound is unforgettable. John Primer & The Real Deal Blues Band continue to electrify audiences at clubs and festivals around the world, and remain a driving force in the world of Blues music today.
Dance Night with The Love Dogs
Friday, October 24, 2014: 8:00 PM
$15.00 Admission: BYOB:
Take one red-hot horn section - we're talkin' alto, tenor, baritone saxes and trombone - down and dirty. Add liberal amounts of barrelhouse boogie-woogie piano and stinging Fender guitar. Pour over a funky and swinging rhythm section that Blues Review magazine called "the best in the business", and top it all off with a crazy and charismatic front man with one of the biggest blues voices around. Season with a few years on the road tearing up juke joints, festivals and concert halls across the U.S. and Canada and on both sides of the Atlantic. Sound tasty? It's a recipe for music and mayhem, for intensity and irreverence; it's THE LOVE DOGS. The Dogs combine elements of jump blues, New Orleans R&B and early rock 'n' roll into their own powerhouse sound. The band's lineup consists of SCHEER, ALIZON LISSANCE (keyboards, vocals), MYANNA (alto/tenor sax, vocals), GLENN SHAMBROOM (guitar, baritone sax), RANDY BRAMWELL (bass, vocals), STEVE BROWN (drums, vocals), along with part time Dogs MARIO PERRETT (tenor sax/vocals), MARK PAQUIN (tenor sax, trombone) and old friend "SAX" GORDON BEADLE (tenor and baritone sax). Voted "Best New England Band" by Blues Audience magazine!

Cheryl Arena
Saturday, October 25, 2014: 8:00 PM
$15.00 Admission: BYOB:
Cheryl sizzles with excitement as she mesmerizes audiences with her sultry voice and powerhouse energy. She is a triple threat- a great songwriter, vocalist and blows harp like there's no tomorrow...

Hailing from Boston, she began playing harmonica and immersing herself into the Blues in 1987 She has recorded on several cds with her most recent one, being her 1st solo effort, "Blues Got Me" including 7 original songs, backed by a stellar 7 piece band and produced by Duke Robillard, who also plays on a few cuts.

The harmonica has brought her to many exotic places and afforded her a wealth of wonderful experiences - whether it's on a big festival stage fronting her own band, playing an acoustic duo in some cozy little wine bar, singing and playing with a 20 piece orchestra in Dallas TX, touring around Italy, being a side person in someone else's band, giving harmonica lessons on Skype or teaching at Jon Gindick's Jam camps, Cheryl's beloved pocket pal is always close to her side ready for the next musical adventure!