INFO: Advanced payment has been set up to go through PayPal. You do not need a PayPal account to purchase. It will accept all major credit cards. Tickets purchased in advance will be available at the door prior to the event

Saturday June 2, 2018
$20.00 Admission: BYOB Air Conditione
H-Bom is a quartet of seasoned pro's from the Boston area, performing classic Blues, Soul and R&B tunes along with some sweet original songs. A high-energy, fun performance with explosive harmonies!

Diane Blue - vocals & harmonica
Ed Scheer - vocals & drums
Alizon Lissance - vocals & keyboards
Ricky King Russell - vocals & guitar
Thursday June 7, 2019: 8:00 PM
$20.00 Admission. BYOB: Air Conditioned
A Laconia based Jazz Quartet
Friday, June 15, 2018: 8:00 PM
$20.00 Advance: $25.00 At Door
Air Conditioned: BYOB: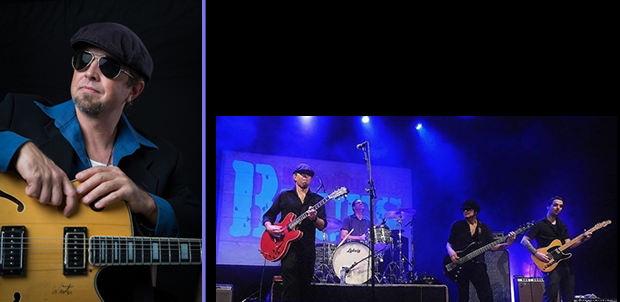 Since starting his recording career as a blues artist, guitarist and vocalist JP Soars has turned uncommon in􀃸uences into a signature sound. Anyone could simply list revered blues artists like Muddy Waters and Guitar Slim, jazz guitar giants like Django Reinhardt and Wes Montgomery, and uncompromising rock acts like Black Sabbath and Slayer, but Soars has lived the diversity -- cutting his teeth touring and recording with South Florida metal bands, and learning the complex style of Reinhardt to continue to perform in "Gypsy Jazz" solo and duo settings. All of these artists, and more, color and shade Soars' blues vocals and playing, whether on his hollow-bodied Epiphone six-string or home-made, two-string cigar box slide guitar.

In 2009, Soars' unique approach paid off as he and his trio The Red Hots defeated bands from around the world to win the annual International Blues Challenge in Memphis, TN.

JP on guitar and vocals, Steve Laudicina on guitar, Chris Peet on drums and Pat Ward on bass.


INFO: Advanced payment has been set up to go through PayPal. You do not need a PayPal account to purchase. It will accept all major credit cards. Tickets purchased in advance will be available at the door prior to the event
Thursday May 31, 2018: 8:00 PM
$20.00 Admission BYOB: Air Conditioned
The Gerry Beaudoin Trio is the musical vehicle for award winning jazz and blues guitarist Gerry Beaudoin. Called "New England's premier jazz guitarist" by Just Jazz Guitar Magazine and "A swing guitar master" by the Boston Globe, Gerry has strong ties to the Boston area and New England. A lifelong resident of Waltham, Mass., Gerry is a graduate of Berklee College of Music and an adjunct professor of music at Quincy College. His performance on the DVD "Live at the Stoneham Theater" was singled out by jazz historian Scott Yanow in his book The Great Guitarists as one of the "finest examples of jazz guitar on film." For over thirty years the Gerry Beaudoin Trio has been a fixture on the New England jazz scene and the national jazz stage.

Musical collaborations include Grammy winning saxophonist, pianist and arranger Fred Lipsius from the seminal jazz/rock group Blood, Sweat and Tears, saxophonists Harry Allen and Rich Lataille from Roomful of Blues, guitarists Howard Alden, Ronnie Earl, Joe Louis Walker, Duke Robillard, harmonica player from the Eric Clapton and Muddy Waters band, Jerry Portnoy and legendary guitarist Jay Geils. The Gerry Beaudoin Trio consists of Gerry with his son Gerard Beaudoin on vibes and long time friend and musical collaborator Bob Niske on acoustic bass. Jazz festival impresario Bart Weisman said of the Gerry Beaudoin Trio, " The father and son team weave sinuous lines and complex musical phrases truly in the tradition of jazz, supported by the rock solid bass of Bob Nieske.
Lenny Clarke: Comedian
Saturday, June 16, 2018: 9:00 PM
$25.00 Admission: BYOB.
Lenny Clarke is an American comedian and actor, famous for his thick Boston accent and role as Uncle Teddy on the series Rescue Me. Clarke was born in Cambridge, Ma. He was the most famous "saloon comic" in Boston during the 1980s, the heyday of the Boston comedy scene. The DVD release When Standup Stood Out details Clarke's early career and affiliations with other famous Boston comics, such as Steven Wright and Denis Leary, his good friends. In 1980, Clarke wrote and starred in a local television show Lenny Clarke's Late Show featuring Wright and Leary, in collaboration with Boston comedy writer Martin Olson. Clarke and Olson were roommates, and their apartment, known by comedians as "The Barracks", was a notorious "crash pad" for comics visiting Boston, and the subject of a documentary film as Clarke and Leary explain in When Standup Stood Out.