http://www.youtube.com/watch?v=J6LKdPuNgxg
Racky Thomas Blues Band
New Years Eve Gala: Wednesday, December 31, 2014: 8:00 PM
$35.00 Admission: BYOB: Champagne Toast at Midnight! Please call for reservations.
Ring in the New Year with a dance and delightful hors d'oeuvres buffet at Pitman's Freight Room.

The Racky Thomas Blues Band has been a torchbearer for the blues since its formation in 1995, when Racky Thomas collaborated with bassist Todd Carson, guitarist Nick Adams, and drummer Ted Larkin to make a demo cd, and do some gigs around the Boston area. Thomas has a vast repertoire of tunes – blues from world-class bluesmen, plantation gospel (the original blues), rocking electric blues, classic and obscure blues, and Racky Thomas blues! including "Matchbox Blues", "Biscuit-Bakin' Woman", "Mona", "Sugar-coated Love", "Big Road Blues", "Hoochie-Coochie Man", and "Mojo Workin'" (to name a few).

Gutsy vocals, down and dirty harmonica, smoking guitar, a killer rhythm section delivering pure unadulterated blues, and you've got the Racky Thomas Band. Twice nominated for Boston Music Awards, and winners of the 1997 Battle of the Blues bands you've only got to experience them once to become a believer.
Dance Night: Brickyard Blues Band
Friday, January 9, 2015: 8:00 PM
$15.00 Admission: BYOB:
Come join us for a great night of music, dancing and socializing. Since 1997, Brickyard Blues has been evolving its sound and building a following on stages in New England. We mix influences including Texas & Chicago Blues, Stax-era soul music, old-school R&B, with some roots & rockabilly thrown in. 2006 marked the release of the bands 9 original song CD "Naughty". In addition to getting airplay on radio stations throughout New England, their original song, Alabama Blues Man, was picked as the Favorite Blues Song at radio stations in Orlando Florida, and Warsaw, Indiana, and has even been featured on a radio station in Belgium that showcases American roots-rock music. It's R&B plus a whole lot more. Brian James on Guitar & vocals, Tom Hoctor on sax, Rachel Green on bass, and Reed Dieffenbach on drums.


Chris Bakriges "Fiddle Funk"
Friday, January 16, 2015: 8:00 PM
$15.00 Admission: BYOB:
Christopher Bakriges (piano, composer) is resident artist at Massachusetts College of Art and Design in Boston and Elms College in Chicopee, Massachusetts. His doctorate in ethnomusicology/musicology afforded him the opportunity to study with the legendary Oscar Peterson. His work traverses jazz, chamber, and world music. Bakriges is a founding member of Critical Theory Ensemble, Q'TET, Quartet 'Til the End of Time, and the Oikos Ensemble, Bakriges has both lectured and performed throughout the United States and internationally in India, Pakistan, Turkey, The Czech Republic, United Kingdom, and France.

Stanley Chepaitis (violin) is Chair of the String Department at Indiana University of Pennsylvania. Stanley is a founding member of the Litton Quartet and the Gorell Trio. He has conducted operas by Mozart (The Impressario), Menotti (The Telephone), Tchaikovsky's Nutcracker, and Mikado by Gilbert & Sullivan. His international performances include engagements at the Academy of Music in Zagreb, Croatia, the Academy of Music in Ljubljana, Slovenia, and a special jazz program for an audience of German music teachers at the Hoechschule in Hanover, Germany. In the states, Stanley has presented concerts at the Eastman School's Kilbourne Hall, Carnegie Mellon University, and the Krannert Center, in Champagne, Illinois.
TYLER ROAD BLUEGRASS BAND
Friday, January 30, 2015: 8:00 PM
$15.00 Admission: BYOB:
Rockspring: Opening Band for Tyler Road
7:00 PM - 8:00 PM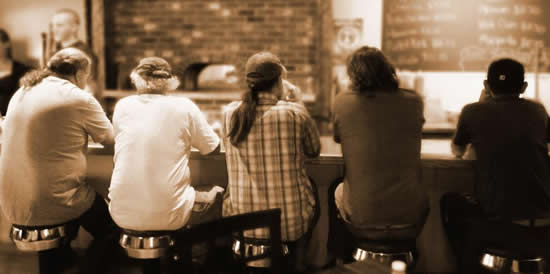 Tyler Road has been performing publicly and at private functions since 2003. Tyler Road has acquired the talent of various musicians from central NH to create a blend of music that you will not find anywhere else. With the combination of banjo, acoustic guitar, fiddle, mandolin, bass, accordion, box drum and bluesy vocals, Tyler Road creates the best foot stomping jams in the Northeast. Tyler Road has performed at arts and music festivals across New England.

Scott: Guitar, Dobro, Vocals, Steve: Banjo, Vocals, Theresa: Viola Dave: Mandolin, Vocals Andy: Percussion, Vocals Woody: Mandolin, Banjo Beth: Stand Up Bass Drew: Djembe
Rockspring is a high energy five-piece string band that has quickly gained a strong following in the New England region. Combining original songwriting with eclectic cover choices, Rockspring puts on an incredibly entertaining live show that makes people dance out of their shoes into the wee hours of the night. Bending bluegrass, rock and various other influences, Rockspring not only appeals to bluegrass fans, but also to pop, rock, alternative folk and country fans. Members: Derek Brock: Upright Bass, Eric McDonald: Mando/Vocals, Chad Verbeck: Guitar/Vocals, Mike Testagrossa: Dobro/Vocals, & Ben Belcher: Banjo.
Violette
Thursday, January 22, 2015: 8:00 PM
$15.00 Admission: BYOB: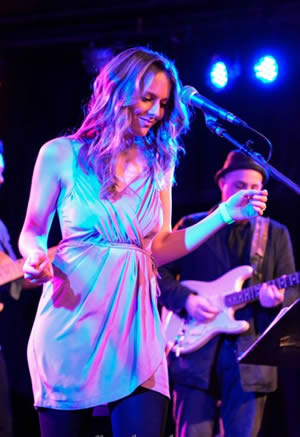 At the early age of 25, French native singer-songwriter Violette has already released three albums. After Inner voice (2009) and Joie de Vivre (2010), her third album Simple is Beautiful, features twelve songs in both French and English. Her originals, although rooted in jazz, reflect the young artist's eclectic range of musical influences from Pop to Rock and R&B. At once upbeat and sassy, sensual and intimate, her soulful voice immerses you in the heart of a genuine emotional experience. Her soulful voice, at once upbeat and sassy, sensual and intimate, immerses you in the heart of a genuine emotional experience.


Sounds Clever & the Valley Horns
Saturday, January 10, 2015: 8:00 PM
$15.00 Admission: BYOB: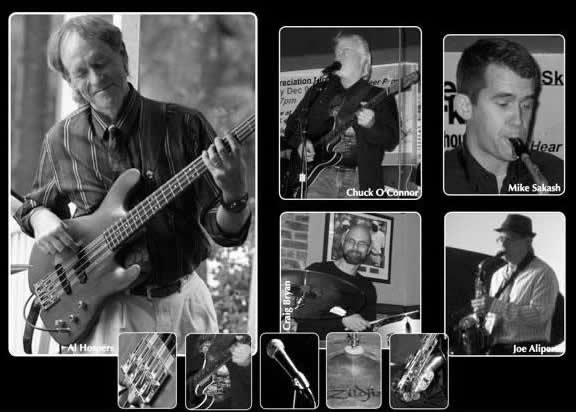 Sounds Clever & the Valley Horns hails from the White Mountains of New Hampshire that plays a great blend of pop and funky music that gets people moving and keeps them entertained. In addition to their ever-eclectic mix of cover tunes and uniquely arranged covers of instantly recognizable tunes, they have a number of original songs that audiences have come to enjoy. The band features Al Hospers on bass and vocals, Mike Sakash and Joe Aliperti on saxophones, Chuck Farrell on guitar and Craig Bryan, Jr. on drums. They play dance & rock music, with a heavy emphasis on R&B and and the groove, but often start out with some funky jazz and uptempo swing music just because everyone loves it.
Carolyn Ramsay Band: Dance Night
Saturday, December 20, 2014: 8:00 PM
$15,00 Admission: BYOB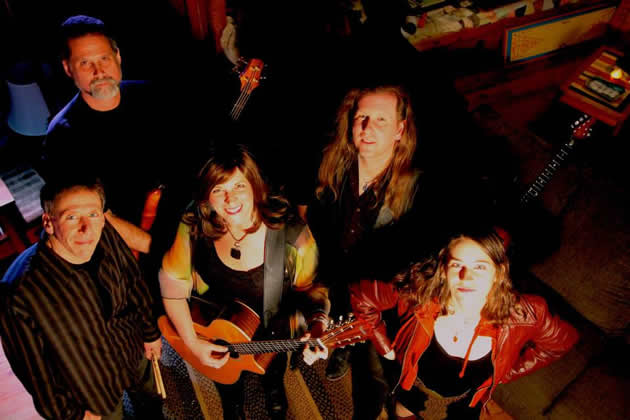 The Carolyn Ramsay Band from Wolfboro, NH is made up of  Carolyn Ramsay (Lead Vocals),  Jessica Ramsay(Vocals), Chuck Farrell(Lead Guitar), Bud Clark(Bass), Mike Chatigny(Vocals/Drums).  The band members have backgrounds in a diverse assortment of musical genres and each contributes something special to the overall chemistry on stage.  CRB's music encompasses an eclectic variety of musical styles ranging from folk to rock, country and jazz standards and features rich vocal harmonies accompanied by the band's unique song arrangements.

Joel Cage: Opening for Carolyn Ramsey Band
7:00 PM - 8:00 PM

JOEL CAGE is an award winning veteran singer/songwriter from Boston. Once a member of the internationally acclaimed rock & roll group Southside Johnny & the Asbury Jukes, Joel has been performing regionally and nationally as a soloist for the past 2 decades. He has performed at some of the most prestigious folk & acoustic venues & festivals in the country, including the Kerrville Folk Festival in Texas where he was awarded top prize in the Kerrville New Folk Competition.
Among Joel's other accolades are:
Awarded the top prize in the the John Lennon Songwriting Contest
Three times the winner of the USA Songwriter's Competition
Multiple nominations for the Boston Music Awards
Winner of the KRCL Songwriting Competition in Park City Utah
Falcom Ridge Emerging Artist
Song Of The Year in the ABET Songwriting Contest
. . . and there are others.
A virtuoso guitarist and an impassioned vocalist, Joel Cage's music is both evocative and raucous.
He spans the gamut from sounding like a full rock band to 'hear your own heartbeat' intimacy.
Joel Cage is also a master interpreter of other people's music, spanning a wide field of musical genres, garnering him the oft used moniker "Acoustic Rock Song Stylist."
Joel's most recent release, EPONYMOUS, was voted among the Top Ten CD Releases of 2013 by The Noise New England Music Magazine.
Professor Harp Blues Band
Friday, February 13, 2015: 8:00 PM
$15.00 Admission: BYOB:
Although born and raised as Hugh Holmes of Boston, Mass., the emanations from his harmonica and vocals make it clear that Professor Harp has the blues of Texas and the whole wide Delta coursing through his veins. Primarily playing a sparse, yet full-sounding brand of no-nonsense, no-frills Texas style blues, Professor Harp specializes in what he calls, 'roots music'. "It's whatever makes me feel good and moves me, so to speak." Indeed it has evolved while continuing to move audiences for decades. Under the influence of many diverse blues greats, Professor Harp has developed a robust playing style. He often utilizes the Leslie rotating-speaker sound system to give his harp a Hammond organ timbre, while he alternately and simultaneously employs the standard or traditional 'electrified' blues harp. The Professor tops this off by singing the blues with an infectious fervor, supported at his strictest insistence by only top-flight musicians on guitar, bass, and drums.

Professor Harp performed with various bands throughout the Northeast including legends Solomon Burke and Luther 'Guitar Jr.' Johnson and played live on NBC's Today Show. Among the legions of hot performances at rocking blues clubs, the memories that often stand out for The Professor are the nights his harp helped to swell the room, in a spontaneous jam with his old mentor, the inimitable bluesman Muddy Waters. Professor Harp will perform with Howard Randall and his band.
Mr. Nick and the Dirty Tricks
Saturday, December 27 , 2015: 8:00 PM
$15.00 Admission: BYOB: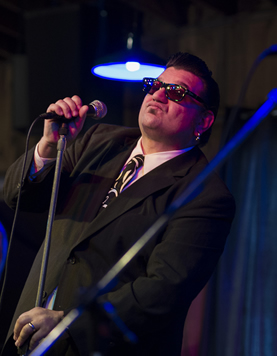 Come join us for a night of great music and dancing to the music of Mr. Nick & the Dirty Tricks with special guest Matt Stubbs. The band unites veteran musicians Nick David (a.k.a. Mr. Nick), "Lonely" Gus Carlson, Teddy B. (Bukowski) and Rick Rousseau for one of the region's most formidable live outfits in any genre. But their hearts belong to blues.

Real blues. They play elegant, stomping and swinging classics like Little Walter's "Mellow Down Easy," Howlin' Wolf's "300 Pounds of Joy" and Wynonie Harris' "Good Morning Judge." Their bag of originals is a mix of rhumbas, jump blues, and boogies they're developing for a debut album and currently taking to legions of fans in New England on their way to stages throughout the US and abroad.

This band has the ability to put on a great show that brings people to their feet!