http://www.youtube.com/watch?v=J6LKdPuNgxg
Heather Pierson Quartet: Valentines Day Show
Thursday, February 12, 2015: 8:00 PM
$15.00 Admission: BYOB:
Heather Pierson will present a very special evening of music at Pitman's Freight Room in Laconia on Thursday, February 12th at 8 p.m.

Heather Pierson is an award-winning pianist, multi-genre singer/songwriter, arranger, bandleader, and performer. From New Orleans-style jazz and blues to rousing Americana and poignant folk narratives, Heather's live performances move seamlessly and effortlessly from one style to the next, and a growing catalog of wildly divergent CD releases reflects her boundless creativity. In November 2014, she released her eighth studio recording, Motherless Child, a collection of inspired originals andrenditions of blues and jazz standards that is her best and most ambitious release to date.

Joining Heather for this concert are Davy Sturtevant on cornet and guitar, Shawn Nadeau on upright bass, and Craig Bryan on drums and percussion.
Dance Night w/ Tall Granite Big Band
Friday, February 20, 2015: 8:00 PM
$15.00 Admission: BYOB: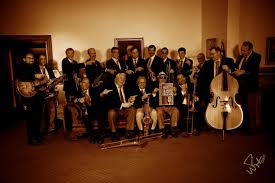 Tall Granite will play it! Remember how music used to be, before live bands needed an electrician and a forklift? Back when a piano, some horns, a doghouse bass, and a drummer beating swing-time used to be enough to rouse a room? We do! From the syncopated heart of New Hampshire, the Tall Granite Jazz Band sound is a spirited homage to Chicago-style "Hot" jazz from the Roaring 1920s, into the Swing jazz of the '30s, '40s, '50s and even '70s! Our influences range from King Oliver to Oliver Nelson, with stops at Louis Armstrong, George Gershwin, Fats Waller, Duke Ellington, Hoagy Carmichael, Miles Davis, Cole Porter, Louis Jordan, Van Morrison, and even Hank Williams! which is a 17-piece Swing band plus a vocalist. Check out our Facebook page (TALL GRANITE BIG BAND) for lots of pictures and some video clips from our unique repertoire of Swing.

So if you're done with dueling banjos, screaming guitars, or amorphous sonic navel-gazing, grab your two-tone shoes, slick back that hair, turn back the clock and swing and stomp or just relax to the Tall Granite Jazz Band's smokey horns and good-time jazz
Jason Spooner Band
Friday, February 27, 2015: 8:00 PM
$15.00 Admission: BYOB: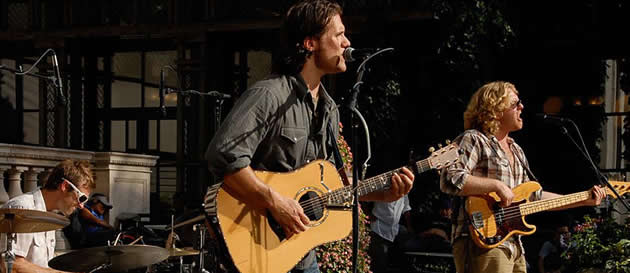 This multi-award winning New England-based songwriter discovered his father's collection of eight-track tapes as a child and never looked back. After early exposure to songwriter legends like Neil Young, Paul Simon, Jim Croce and Van Morrison along with Motown heavies like Marvin Gaye, Stevie Wonder and Gladys Knight, Jason was inspired to start making the rounds on coffee house stages in his teens. Before long, Jason jumped head-first into the Northeast's burgeoning songwriter scene.

Jason's recently won the 2007 Mountain Stage NewSong contest international finals at the South Street Sea Port in New York City. He was also a national finalist in the 2007 Starbucks Music Makers Competition. He toured the East Coast in the Spring of 2006 as part of the Falcon Ridge "Most Wanted" Preview Tour. Jason was honored as a 2006 New Folk Finalist at the renowned Kerrville Folk Festival in Kerrville, TX.

Jason: Vocals, Guitar and Harmonica; Adam Frederick Bass, Vocals; Warren McPherson piano, keyboards, vocals; Reed Chambers Drums, percussion
INFO: Advanced payment has been set up to go through PayPal. You do not need a PayPal account to purchase. It will accept all major credit cards. Tickets purchased in advance will be available at the door prior to the event
Ben Knight
Saturday, February 7, 2015: 8:00 PM
$15.00 Admission: BYOB:
Pitman's Freight Room presents Ben Knight who has been banging on instruments since he was a kid. He started with the pots and pans until his parents broke down and bought him a drum set. In high school, he started playing piano, but he still slammed on it like he was playing drums. Today, he performs classic hits from the early days of rock and roll and he's playing harder than ever, in addition to writing and recording his own material. He released an EP in 2013 titled "Breaking the Keys" that was completely funded by teaching piano lessons and street performing in Boston, and has just recently released a second EP called "Any Strand of Hope." Both were recorded in Syracuse NY and feature full band arrangements and horn sections. He is currently focused on writing the best rock and roll songs ever made and creating the best live show ever seen.

JP Soars and the Red Hots
Saturday, April 27, 2015: 8:00 PM
$20.00 Advanced Payment: $25.00 Admission At Door: BYOB: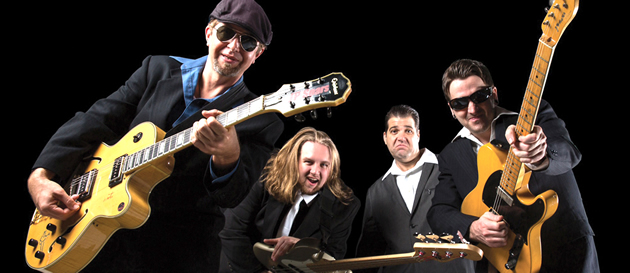 Pitman's Freight Room and House Rockin Productions present JP Soars and the Red Hots! Since starting his recording career as a blues artist, guitarist and vocalist JP Soars has turned uncommon in􀃸uences into a signature sound. Anyone could simply list revered blues artists like Muddy Waters and Guitar Slim, jazz guitar giants like Django Reinhardt and Wes Montgomery, and uncompromising rock acts like Black Sabbath and Slayer, but Soars has lived the diversity -- cutting his teeth touring and recording with Gypsy Jazz solo and duo settings. All of these artists, and more, color and shade Soars' blues vocals and playing, whether on his hollow-bodied Epiphone six-string or home-made, two-string cigar box slide guitar.South Florida metal bands, and learning the complex style of Reinhardt to continue to perform in.

In 2009, Soars' unique approach paid off as he and his trio The Red Hots defeated bands from around the world to win the annual International Blues Challenge in Memphis, TN. Soars also won the Albert King Award for most promising guitarist. JP on guitar and vocals, Steve Laudicina on guitar, Chris Peet on drums and Pat Ward on bass
INFO: Advanced payment has been set up to go through PayPal. You do not need a PayPal account to purchase. It will accept all major credit cards. Tickets purchased in advance will be available at the door prior to the event
Comedy Night with
Will Noonan
Carolyn Plummer
Graig Murphy:
Saturday, February 14, 2015: 8:00 PM
$15.00 Admission: BYOB:

Will Noonan is a stand up comedian who is also well known for his internet presence and his appearances in national television commercials. He is also well known on the Vine app where he has over 20K followers and frequently costars with friend Ry Doon . On Twitter @willnoonan Will has a cult following including such notable followers as Jim Gaffigan, Dave Attell, Joe Rogan, Gary Gulman, Andy Kindler, Owen Benjamin, Brody Stevens, Family Guy Producer Alec Sulkin, and Nikki Glaser among many others.

In October 2014 Will appeared on LIVE national television on AXS- TV's stand up show "Gotham Comedy Live". In August 2014 Will performed on the Funny Or Die Presents: Oddball Comedy Festival headlined by Louis CK and Sarah Silverman. Will was recently named "A Comic to Watch" by The Boston Globe Magazine. He has been featured on MTV's "FN MTV" and his albums are regularly played on Sirius XM Radio's comedy stations. He has told a story on NPR's "This American Life" as well as starring in commercials for Staples, Ocean Spray, Comlax, Bullhorn, and Pure Hockey among many others.

Carolyn Plummer. God help us. Some comics rely on the monumental events of the day or the faux pas of the rich and famous. Not Carolyn. Carolyn pulls material from the hum-drum, day-to-day monotony of the life of everyman. And she does it well. To Carolyn the monumental is easy…it's our existence that's so hard, yet so ridiculous. Some women look in the mirror and complain because they aren't pretty enough, not rich enough, not young enough. Carolyn gives her reflection the finger. The third child of a Congregational Minister and an "aloof" home maker mother; "aloof"? She's clueless; her favorite band is Blootie and the Hoefish." C.P. Carolyn learned early on that she could lament or she could make fun. Possessing an uncanny ability to introspectively pull from places most of us hide, Carolyn puts a nail through the heart of whiners, self-loathers and the self-sorry of the world and makes the average seem hilarious and larger than life. Most of all, Carolyn's twisted perception of our common existence leaves audiences hysterically shaking heads in agreement with her assessment that the world is indeed a very funny place.

As a newcomer to the comedy scene, Graig Murphy is wowing audiences with his impressions of local sports owners and players and can keep the laughs coming with his talented wit. Come see Boston's Up and Coming Star performer.
Open Mic Community Coffee House
Wednesday, February 4, 2015: 6:00 - 8:00 PM
$5.00 Admission: Cookies, tea, and coffee will be provided.:
Pitman's Freight Room will be hosting the second Open Mic Community Coffee House of the month on Wednesday, February 4 from 6 to 8 p.m.
Last month, the Freight Room hosted its inaugural Open Mic Coffee House, which featured a wide array of talented individuals ranging from high school students to adult members of the community. The evening is aimed to allow community members to share their creative expression to others through vocal performances, instrumental pieces and poetry. All members of the community are invited to participate in or attend the event.
In addition to supporting the communities talent, all proceeds from the event will help financially support a local cause each month. Proceeds from the first open mic event supported the Laconia High School Senior Class. The February event's proceeds will support local senior, Alana Persson, to offset the tuition cost for her year with Up With People (UWP). Persson will be traveling with the international non-profit organization from June 2015 to July 2016 with a cast of 100 individuals from around the world. During her year of travel, Persson will live in host families, each week giving back to others through community service, education, and music.
"I truly appreciate all the community has done to support me in this amazing opportunity and make it a reality financially," says Persson. "I was amazed at the turn out of the Coffee House last month, and was blown away by the talent that the community had to offer. I look forward to seeing the talent that the community has to offer next month. Hope to see you all there!"
For more information call 581-5517 or email
alana.persson@gmail.com
.
Professor Harp Blues Band
Friday, February 13, 2015: 8:00 PM
$15.00 Admission: BYOB:
Although born and raised as Hugh Holmes of Boston, Mass., the emanations from his harmonica and vocals make it clear that Professor Harp has the blues of Texas and the whole wide Delta coursing through his veins. Primarily playing a sparse, yet full-sounding brand of no-nonsense, no-frills Texas style blues, Professor Harp specializes in what he calls, 'roots music'. "It's whatever makes me feel good and moves me, so to speak." Indeed it has evolved while continuing to move audiences for decades. Under the influence of many diverse blues greats, Professor Harp has developed a robust playing style. He often utilizes the Leslie rotating-speaker sound system to give his harp a Hammond organ timbre, while he alternately and simultaneously employs the standard or traditional 'electrified' blues harp. The Professor tops this off by singing the blues with an infectious fervor, supported at his strictest insistence by only top-flight musicians on guitar, bass, and drums.

Professor Harp performed with various bands throughout the Northeast including legends Solomon Burke and Luther 'Guitar Jr.' Johnson and played live on NBC's Today Show. Among the legions of hot performances at rocking blues clubs, the memories that often stand out for The Professor are the nights his harp helped to swell the room, in a spontaneous jam with his old mentor, the inimitable bluesman Muddy Waters. Professor Harp will perform with Howard Randall and his band.
Michael Vincent Band Superbowl Party
Sunday, February 1, 2015: 3:00 PM
$15.00 Admission: BYOB:


Come join us to enjoy the Michael Vincent Band and watch the Superbowl! Michael Vincent discovered Blues and Soul music as a child. While still in grammar school, he formed a trio called Michael Vincent and Doubleshot with two of his classmates. Now traveling the country, he employs a reminiscent blues guitar style and an inspiring voice.

Danny Mack on Bass has developed his own unique thumping style in his music. His main influences include Jack Bruce, Donald Dunn, Barry Oakely, Leon Wilkeson, John Paul Jones, John Entwistle, and Billy Cox.

Dan Hewitt started playing drums in the summer of 2006. He moved to New Hampshire and met Michael Vincent in grammar school and they soon collaborated with Dan Mack to form the trio. Now an experienced percussionist, he has returned as the backbone. His main influences include Gene Krupa, Mitch Mitchell, John Bonham, Ginger Baker, Buddy Rich, Louie Bellson, and Steve Gadd.

You won't want to miss this great band of NH Musicians and you won't have to miss the Big Game!!!
James Harman Blues with Matt Stubbs and Nick David
Friday, February 6, 2015: 8:00 PM
$20.00 Advanced Payment: $25.00 Admission At Door: BYOB: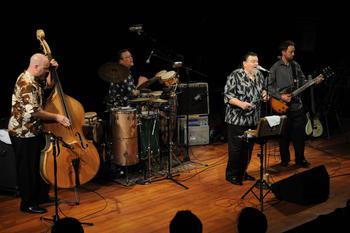 Pitman's Freight Room and House Rockin Productions are pleased to present JAMES HARMAN who was born and raised in Anniston, Alabama-quickly picked up on the black blues and soul music being played on juke boxes and the radio. He sang in the church choir until age 16 when his family moved to Panama City Florida, where he found himself surrounded by like-minded blues lovers. Wearing a fake moustache, young James slipped into a still segregated black nightclub to see Little Junior Parker's show. He was totally overtaken by the blues and soon became a regular, known as "That boy who sings like a man" by patrons.

While still in his teens, he started playing juke joints and dance clubs throughout the South. Hs performances became legendary-he was "tapped" by talent scouts, signed and taken to Atlanta, Georgia in 1964 to begin his recording career at age 18. He had a series of nine singles (45 RPM records) released during the mid to late 60's on obscure southern labels

He has been nominated for 20 pestiferous W. C. Handy (Blues Foundation) awards. He was inducted into the Alabama Music Hall of Fame, and he is the harmonica player of choice on many ZZ Top releases, as well as live with them on many international TV shows.

Joining James will be Matt Stubbs on guitar and Nick David on Harmonica.
INFO: Advanced payment has been set up to go through PayPal. You do not need a PayPal account to purchase. It will accept all major credit cards. Tickets purchased in advance will be available at the door prior to the event