INFO: Advanced payment has been set up to go through PayPal. You do not need a PayPal account to purchase. It will accept all major credit cards. Tickets purchased in advance will be available at the door prior to the event


>
Friday, March 22, 2019: 7:30 PM
$25.00 Admission: BYOB:
Join Rafting for Wishes "Team Landlubbers" for a night of laughter and fun as they host an exciting event with comic hypnotist Frank Santos Jr.!

Frank is a comic hypnotist, who has performed all across the county for the past 15 years. His shows can be clean to r-rated and anything in-be-tween.

Doors open at 6:30pm; Show 7:30-9:30pm: "Party to go food" provided by Fratello's Italian Grill will be hot and ready at 6:30. Bring your own beverages! 50/50 Raffle / Chinese Raffle. Tickets available at the Lyons' Den Restaurant, Tilton Police Department, and Northeast Tire
Friday, February 01, 2019: 8:00 PM
$20.00 Admission: BYOB:
Ken is internationally known as one of the world's greatest jazz organists. He has also been *Winner of New England Blues Society, Keyboardist of the the Year* in "2006", "2009", "2011" & "2015". Ken's technical ability joined with his natural feel for funk and soul makes a night with the KKOT an authentic, special one indeed.

Ken Clark has toured and recorded with Bernard Purdie, Melvin Sparks and David "Fathead" Newman among others.

Joining Ken for this special event is Paul Bourgelais on guitar and John Medeiros Jr. On drums.
Saturday, February 02, 2019
8:00 PM
$20.00 Admission: BYOB:
Steve has performed in Las Vegas, as well as the Mohegan Sun in Connecticut, Hilarities in Orlando, FL and Cleveland, OH, TSM Comedy Club in Louisville, KY, Crackers in Indianapolis, and many, many others as well as being a New England favorite.


Saturday March 30, 2019: 8:00 PM
$20.00 Admission: BYOB:
Jodie Cunningham is a modern rock-edged country artist that delivers a blend of cover songs and original material truly relevant in today's Nashville music industry.  Jodie is wowing audiences all over New England with her passionate, high energy vocal performance, backed by four, seasoned & well versed musicians. The band's on stage presence is high energy and infectious! With a driving rhythm section, screaming guitars, tight harmonies and soaring lead vocals, this team will certainly prove that they are not your traditional country band, but a modern country music fusion that crosses over into rock & the top 40!

Jodie has many credits to her name, some of which are; New Hampshire Idol winner, finalist (regional and state winner) for the Colgate Country Showdown, and vocalist and entertainer of the year in the NHCMA.

Jodie has opened for and/or shared venues with national acts such as; Sugarland, Zac Brown, Kenny Chesney, Toby Keith, Gretchen Wilson, Carrie Underwood, Joe Nichols, Emmerson Drive, Steve Holy, Big n' Rich, and Little Big Town. Carlos Flores – lead guitar;  Phillip Sica – drums;  Leo Melanson – steel guitar, fiddle, rhythm guitar;  Steve Dillard – bass guitar.
Friday, February 22, 2019: 8:00 PM
$25.00 Admission at Door: BYOB:
The Mallett Brothers Band plays original music with a unique style that spans across country, rock and roll, Americana and "alt-country" genres. The band has grown a dedicated fan base across the country since releasing their debut record in 2009. With songs that can range from alt country, to americana, honkytonk, jam or roots rock, theirs is a musical melting pot that's influenced equally by folk and singer/songwriter influences as it is by harder rock, twang and psychedelic sounds. Led by brothers Luke and Will Mallett, the band is rounded out by Brian Higgins on drums, Nick Leen on bass, Wally on dobro and electric guitar, and sometimes filled out by Matt Mills on lead guitar, pedal steel and banjo. It's song-driven music that holds up under the lens of solitary listening, but that's equally apt to crank a room full of rockers into whiskey-fueled high gear.
Since forming in 2009, the band has provided support for acts ranging from The Josh Abbot Band, Blackberry Smoke, and the Turnpike Troubadours, to legends like Lynyrd Skynyrd, Charlie Daniels, and 38 Special. Their touring circuit stretches from the Appalachian to the Rocky Mountains, from Maine to Mississippi, and they've appeared in front of many fine people at some of the finest music venues in the country, including the Continental Club in Austin, the legendary Gruene Hall in New Braunfels TX, the Birchmere in Alexandria VA, the Bluebird in Nashville TN, Meadowbrook Pavilion in NH, and more.
INFO: Advanced payment has been set up to go through PayPal. You do not need a PayPal account to purchase. It will accept all major credit cards. Tickets purchased in advance will be available at the door prior to the event
Saturday February 16, 2019: 8:00 PM
$20.00 Admission: BYOB:
For over 25 years the Bucky Lewis has been entertaining audiences with his dynamic one-man comedy and music show.​ Using many forms of comedic stylings and disciplines makes this show unique and a stand-out, delighting sold out crowds everywhere. The Bucky Lewis Show uses laughter as a weapon, successfully raising thousands of dollars for charities, and non-profits. There are many ways people laugh at a show. The Bucky Lewis Show has them all!
Friday, January 18, 2019: 8:00 PM
$20.00 Admission BYOB: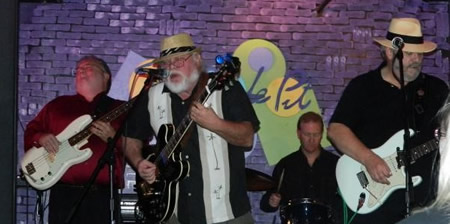 A lot of Blues bands come and go on the local music scene these days, with most never to return. However, this band did return in 2011 with a vengeance! Consisting of three core members of the original LA East Band from Laconia, NH and by adding in fresh new talent we round out this 5 piece hard hitting blues band, named Blues Tonight.

Not only does the Band play covers of blues songs that we are all familiar with, Blues Tonight also performs songs that not everyone has on their set list. But playing covers isn't really what we are about, it's the original songs that we are getting known for and that people are requesting.  So come see for yourself what a powerful sound we can create and enjoy what everyone has been talking about in New Hampshire!

Craig Farrington - Guitar/Vocals, Steve Brooks - Bass Guitar, Eric Anderson –Drums, Dave Bottom - Guitar/Vocals and Alan Doyle – Harp/vocals.
Saturday, March 09, 2019: 8:00 PM
$20.00 Admission BYOB:
Frank Santorelli has not only been a long time Boston area headliner, but fans will recognize him from his recurring role of "Georgie the Bartender" in The Sopranos and his star role in film "The Godfathers of Comedy." Santorelli has appeared in numerous movies including "No Reservations," "Meet the Parents," and "Crooked Lines," as well as having been seen in many television shows including "Law and Order."

Santorelli has headlined at some of the world's most famous comedy clubs including Comic Strip, Catch a Rising Star, the Comedy Cellar, and Caroline's, all in New York City as well as the Laugh Factory and The Improv in Los Angeles. He has also appeared at many of the major clubs around the country.
Friday, April 12, 2019: 8:00 PM
$20.00 Admission BYOB:
Viva & The Reinforcements deliver spicy cosmopolitan grooves in a show that balances the zest of burlesque with classic standards elegantly renewed. She likes her coffee black, her tequila neat, her men strong and her women stronger. Backed by an ever-changing fleet of the jazz elite, she'll slide her way into your fondest memories with just a flick of her hips. Always thrilling, never the same show twice.
As a small child, Viva was exposed to a robust variety of music (from Cuban son to 90s pop to chamber orchestra to the Great American Songbook) and made her stage debut with musical theatre in high school. She began singing with a small jazz combo at 21 years old and directed her first performance a year later. After some time in studio and abroad, Viva assembled an elite team of jazz musicians for the premiere of Viva & the Reinforcements. Since then, the group has played hundreds of sparkling events, each different than the last in set list, instrumentation, and costume design in dozens of cities across the continents. 

Viva quickly noticed the variety of people attending her shows: old, young, educated, poor, affluent, Americans and ex-patriots alike, all digging the same sweet grooves. More importantly, as these different people saw each other at Viva & The Reinforcements shows relationships began to build among regulars. It was then Viva realized the impact she could have on the world by providing party space for people of different backgrounds and interests to explore together.

With that in mind, Viva took off on #EastCoastTour2017 to visit with audiences and musicians in big cities and small, from New Orleans, LA to Toronto, CA, returning to Portland, ME to open for such acts as Pink Martini and Big Bad Voodoo Daddy with The Reinforcements and The Dance Armada, choreography by THEO.

The bandleader lives in Portland, ME, producing the ongoing music festival #PollFest, a musical initiative to increase voter engagement and education.